Published: 14 February 2013
Turnover in service industries grew by 3.3 per cent year-on-year in September to November
Turnover in service industries grew by 3.3 per cent in September to November from the corresponding time period of the year before. One year previously, turnover in service industries grew by 6.4 per cent. Services are here examined exclusive of trade, and the data have been adjusted for working days by eliminating the effects of calendar variations from them.
Three months' year-on-year change in turnover in services (TOL 2008)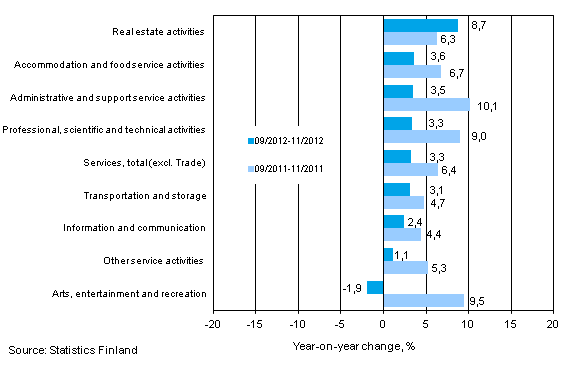 In the September to November period, turnover developed more slowly than last year in all main service industries apart from real estate activities where it went up by 8.7 per cent. The growth from one year ago in accommodation and food service activities amounted to 3.6 per cent and to 3.5 per cent in administrative and support service activities. Weakest turnover development was seen in arts, entertainment and recreation, where the turnover decreased by nearly two per cent from one year ago.
The indices of turnover will adopt base year 2010=100 from the January 2013 data. Data using the new base year will be published for the first time on 15 April 2013.
Source: Turnover of service industries, Statistics Finland
Inquiries: Anna Muurainen 09 1734 2670, palvelut.suhdanne@stat.fi
Director in charge: Hannele Orjala
Publication in pdf-format (257.5 kB)
Tables in databases

Appendix tables
---
Updated 14.2.2013
Official Statistics of Finland (OSF): Turnover of service industries [e-publication].
ISSN=1799-0998. November 2012. Helsinki: Statistics Finland [referred: 14.12.2019].
Access method: http://www.stat.fi/til/plv/2012/11/plv_2012_11_2013-02-14_tie_001_en.html