Published: 19 February 2015
Road traffic accidents claimed 17 lives in January
According to preliminary data of Statistics Finland, 344 accidents involving personal injury happened in road traffic in January. In them, 17 persons were killed and 444 persons injured. The number of persons killed was 3 higher and that of persons injured 31 higher than in January 2014.
Persons killed in road traffic accidents 1/1985 - 1/2015. Deaths in the past 12 months by month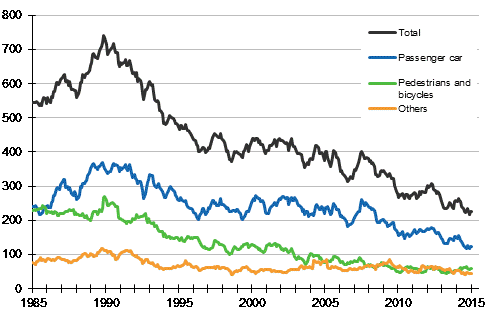 Of the persons who were killed, 11 travelled by passenger car and one by van. Pedestrians killed in road traffic accidents numbered four. In addition, one other road user was killed. Among those who died, nine were men and eight were women.
Source: Transport and Tourism: Statistics on road traffic accidents. Statistics Finland
Inquiries: Irmeli Segerholm 029 551 3219, Mari Niemi 029 551 3215, liikenne.matkailu@stat.fi
Director in charge: Hannele Orjala
---
Updated 19.2.2015
Official Statistics of Finland (OSF): Statistics on road traffic accidents [e-publication].
ISSN=2342-3846. January 2015. Helsinki: Statistics Finland [referred: 17.10.2019].
Access method: http://www.stat.fi/til/ton/2015/01/ton_2015_01_2015-02-19_tie_001_en.html