News 5 Oct 2020
Statistics Finland turned 155 years old
Finland's Statistical Office was established on 4 October 1865 with the permission of the Russian Emperor. The office was initially temporary and it was made permanent in 1870. However, different sets of statistics had been compiled for the needs of rulers ever since the 16th century. In 1749, the population statistics of Sweden and Finland were compiled, which are the oldest continuous statistics in the world. The Finnish word for statistics, tilasto, was developed in 1848.
Development of population 1750-2019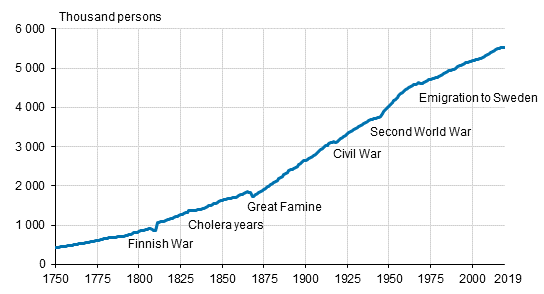 Data in Excel format (xlsx)  (The chart in English in the third tab)
Statistics put Finland on the map
Statistics made Finland known to the rest of the world even before our great long-distance runners. At the meeting of the International Statistics Congress at the Hague in 1869, a statistical brochure about Finland's population was presented. As a result, Finland was able to participate in publications compiled by other countries in which statistical data from different countries were presented – as one nation among others.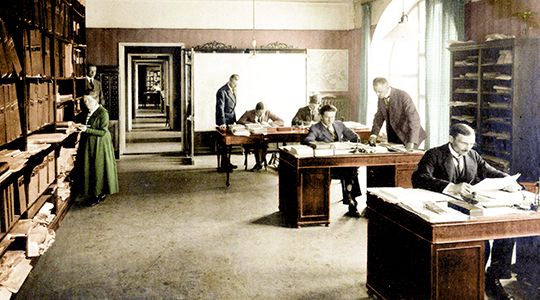 Working at the Central Statistical Office of Finland at the beginning of the 20th century
Finland a pioneer in reforms
At the moment, Statistics Finland employs more than 800 professionals in various fields. Annually we produce around 160 sets of statistics on which around 600 topical releases are made during the year. Memberships in the EU and the Economic and Monetary Union have increased the internationality of Finnish statistics. The majority of Statistics Finland's statistics are regulated by the EU.
Finland has been pioneering in both data collection and its releasing. In 1990, Finland started to use register-based population censuses, as the second country in the world after Denmark. In 1995, Statistics Finland opened its Internet service as the first statistical agency in Europe.
Towards new challenges
The need for information increases in the complex and changing world. Statistics Finland anticipates various needs and produces not only data but also an understanding of different phenomena. Big data and micro data are used alongside conventional statistics, and they all must be reconciled in future. Statistics Finland's experimental statistics are an example of development where different new methods and data sources are harnessed to produce fast and reliable data and describe different phenomena.
"The debate around fake information draws attention to the importance of statistics and factual information in society. The volumes of data increase at a huge pace, but even more important than volumes is how and on what principles data can be utilised in future. A majority of the data sources of Finland's public administration are handled at Statistics Finland. Our aim is that our valuable data materials will serve Finland in the best possible way in future," says Statistics Finland's Director General Marjo Bruun.
Further information: Statistics Finland's information services: tel. +358 29 551 2220, info@stat.fi