Published: 27 February 2009
General government surplus contracted in 2008, debt decreased slightly
According to Statistics Finland's preliminary data, the EMU surplus of Finland's general government contracted in 2008 from the previous year's 5.2 per cent to 4.2 per cent of gross domestic product. The amount of general government EMU debt decreased in 2008 by EUR 0.9 billion to EUR 62.1 billion. At the same time the share of debt of GDP fell to 33.4 per cent from the previous year's 35.1 per cent.
General government surplus contracted by EUR 1.6 billion in 2008. The background for this development consists, among other things, of the significant slowing down of the growth of central government sector tax revenue which, in turn, followed from the declining economic situation of the latter half of 2008. Central government sector surplus contracted from EUR 3.8 billion to EUR 1.6 billion. By contrast, the local government sector continued to show a slight deficit, which in 2008 amounted to EUR 0.2 billion. The surplus of employment pension funds grew to EUR 6.0 billion, which means that among the EU countries Finland's general government as a whole showed a notably large surplus relative to GDP. Employment pension funds' EMU surplus differs significantly from the total result in pension corporations' profit and loss accounts, which are affected by e.g. changes in the value of pension investments. The surplus of other social security funds than employment pension funds amounted to EUR 0.4 billion.
In 2008 general government's unconsolidated gross debt fell by EUR 0.8 billion. Central government debt contracted by EUR 1.5 billion, whereas local government debt grew by EUR 0.7 billion. Internal general government debt increased by EUR 0.1 billion. The EMU debt describes general government's debt to other sectors of the economy and to the rest of the world, and its development is influenced by changes in unconsolidated gross debt and internal general government debts.
Statistics Finland will release the contents of the deficit and debt report compiled in March for the European Commission on the web pages of these statistics on 31 March.
Finland's general government EMU deficit (-) and debt, percentage of GDP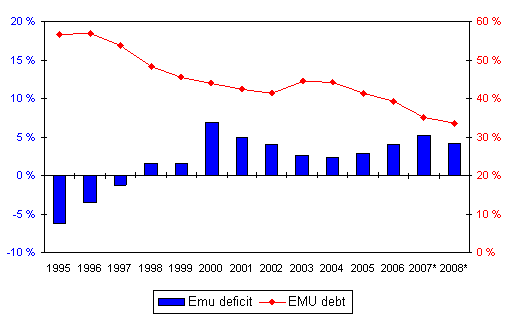 Source: General government deficit and gross debt according to EMU criteria, 2008, preliminary data.Statistics Finland
Inquiries: Mika Sainio (09) 1734 2686, Matti Okko (09) 1734 3341, rahoitus.tilinpito@stat.fi
Director in charge: Ari Tyrkkö
Publication in pdf-format (225.2 kB)
Tables in databases

Appendix tables
---
Updated 27.02.2009
Official Statistics of Finland (OSF): General government deficit and debt [e-publication].
ISSN=1799-5914. 2008. Helsinki: Statistics Finland [referred: 24.11.2020].
Access method: http://www.stat.fi/til/jali/2008/jali_2008_2009-02-27_tie_001_en.html