Published: 1 March 2010
In 2009 government finance turned into deficit and debt grew strongly
According to Statistics Finland's preliminary data Finland's general government was clearly in deficit in 2009. Relative to GDP the deficit was 2.2 per cent, while one year previously general government surplus was 4.2 per cent relative to GDP. During the year, the amount of general government EMU debt increased by EUR 12.2 billion to EUR 75.2 billion. In 2009, the GDP share of the debt rose from the previous year's 34.2 per cent to 44.0 per cent. According to the preliminary data, despite the weakened deficit and debt ratios, government deficit and debt remained below the reference values of the European Union's Growth and Stability Pact.
Finland's general government EMU deficit (-) and debt, percentage of GDP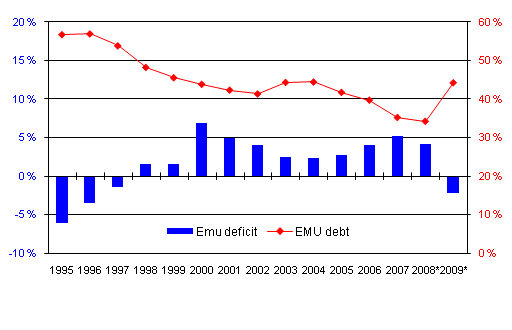 In 2009, the financial position of general government weakened by EUR 11.4 billion, which was particularly due to the international economic downturn that started in the latter part of 2008. The central government sector's surplus (EUR 1.1 billion) in 2008 turned into a deficit of EUR 8.2 billion. This development was mainly due to significant contraction of tax revenue. The local government sector continued to show a deficit, which in 2009 amounted to EUR 0.7 billion. The surplus of employment pension funds diminished from EUR 7.3 billion to EUR 5.1 billion.
In 2009, general government's unconsolidated gross debt grew by EUR 11.7 billion (17.2%) from the year before. Central government debt rose by EUR 10.4 billion and local government debt grew by EUR 1.3 billion. Internal general government debt decreased by some EUR 0.5 billion. The EMU debt describes general government's debt to other sectors of the economy and to the rest of the world, and its development is influenced by changes in unconsolidated gross debt and internal general government debt.
Statistics Finland will release the contents of the deficit and debt report compiled in March for the European Commission on the web pages of these statistics on 31 March.
Source: General government deficit and gross debt according to EMU criteria, 2008, preliminary data.Statistics Finland
Inquiries: Mika Sainio (09) 1734 2686, Mira Kuussaari (09) 1734 3538, rahoitus.tilinpito@stat.fi
Director in charge: Ari Tyrkkö
Publication in pdf-format (205.0 kB)
---
Updated 01.03.2010
Official Statistics of Finland (OSF): General government deficit and debt [e-publication].
ISSN=1799-5914. 2009. Helsinki: Statistics Finland [referred: 9.12.2019].
Access method: http://www.stat.fi/til/jali/2009/jali_2009_2010-03-01_tie_001_en.html