Published: 27 April 2012
Consumption of hard coal decreased by 41 per cent in January to March
According to Statistics Finland's preliminary data, consumption of hard coal decreased by 41 per cent in January to March this year from the respective period of last year. Its total consumption as fuel in the generation of electricity and heat amounted to 1.3 million tonnes, corresponding to 30 petajoules in energy content. Use of hard coal decreased in plants of separate production of electricity, which con-sumed 80 less of it than one year earlier in 2011.
Consumption of hard coal, million tonnes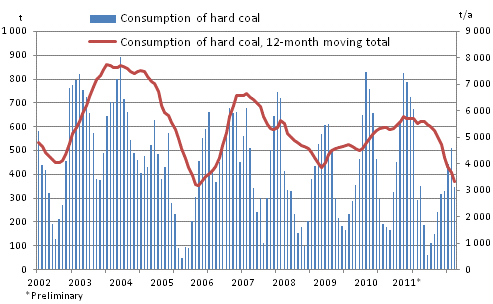 The data for years 2011 and 2012 is preliminary.
In January to March this year, the consumption of hard coal was 31 per cent up on the average for the 2000s. At the end of March 2012, stocks of hard coal amounted to around 4.5 million tonnes, or 81 per cent more than one year earlier. Separate production of condensate power decreased by 62 per cent in the early part of the year. The better than average water situation in Norway, Sweden and Finland in the early part of the year made the production of hydro power for the Nordic market more economical than before.
Source: Consumption of hard coal, Statistics Finland
Inquiries: Pentti Wanhatalo 09 1734 2685, energia@stat.fi
Director in charge: Leena Storgårds
Publication in pdf-format (223.2 kB)
Tables in databases

Appendix tables
---
Updated 27.4.2012
Official Statistics of Finland (OSF): Consumption of hard coal [e-publication].
ISSN=1798-2588. March 2012. Helsinki: Statistics Finland [referred: 24.1.2020].
Access method: http://www.stat.fi/til/kivih/2012/03/kivih_2012_03_2012-04-27_tie_001_en.html