Published: 28 August 2014
Consumption of hard coal decreased by 30 per cent from January to June
According to Statistics Finland's preliminary data, consumption of hard coal decreased by 30 per cent in this year's January to June period compared with the corresponding period of last year. Its total consumption as a fuel in the generation of electricity and heat amounted to around two million tonnes, corresponding to around 50 petajoules in energy content. In January to June this year, the consumption of hard coal was 24 per cent lower than the average for the 2000s.
Consumption of hard coal, 1,000 tonnes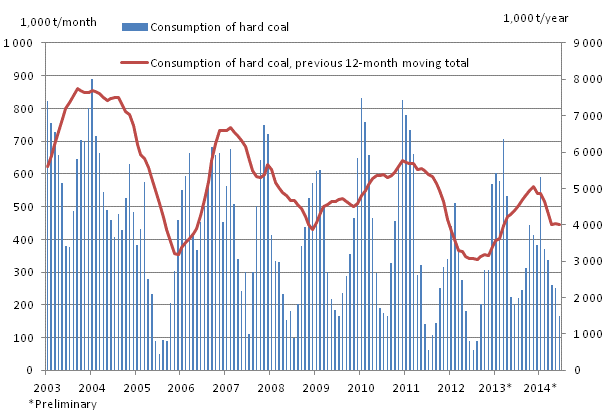 The data for years 2013 and 2014 are preliminary.
The use of coal diminished in plants of separate production of electricity by around 60 per cent in the first half of the year compared with the corresponding period of the previous year. The warmer than usual early part of the year and the improved water situation in the Nordic countries had an effect on separate production of condensate power, which, according to the Finnish Energy Industries' data, decreased by 43 per cent. One coal condensate power plant was also removed from the standby mode in the first half of year.
At the end of June 2014, stocks of hard coal totalled some 3.3 million tonnes, or 11 per cent more than one year earlier.
Source: Consumption of hard coal, Statistics Finland
Inquiries: Ville Maljanen 029 551 2691, energia@stat.fi
Director in charge: Leena Storgårds
Publication in pdf-format (235.3 kB)
Tables in databases

Appendix tables
---
Updated 28.8.2014
Official Statistics of Finland (OSF): Consumption of hard coal [e-publication].
ISSN=1798-2588. June 2014. Helsinki: Statistics Finland [referred: 24.1.2020].
Access method: http://www.stat.fi/til/kivih/2014/06/kivih_2014_06_2014-08-28_tie_001_en.html