Published: 24 April 2020
The number of infant deaths lowest in history
In 2019, the number of children dying at the age of under one year was 96. The number is the lowest during Finnish independence. The number of infant deaths per one thousand live-born children was 2.1, which is the same figure as in the previous year. The infant mortality rate of boys, 2.3 per mil, was slightly higher than among girls, 1.9 per mil. The lowest infant mortality rate in recorded history was 1.7 per mil in 2015, when 97 children died at the age of under one year.
Deaths at the age of under one year by sex in 1990 to 2019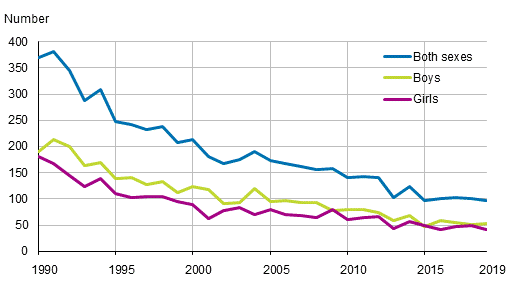 In 2019, the average life expectancy at birth was 79.2 years for boys and 84.5 years for girls. For boys, the life expectancy increased by 0.3 years and for girls by 0.2 years compared with 2018. Life expectancy at birth indicates the number of years a person aged 0 would live on average, provided the rate of mortality remains unchanged.
Age distribution at the time of death by sex in 2019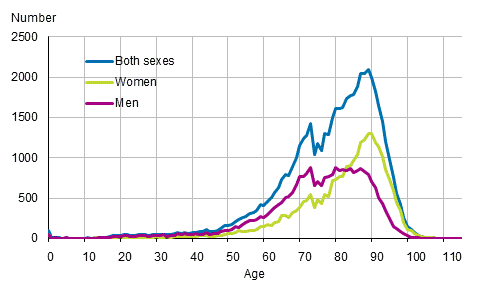 A total of 53,949 persons died in 2019, which is 578 less than in 2018. Men died, on average, at the age of 75.3 and women at 82.1. Women died, on average, 6.8 years older than men. In young age groups, a majority of deaths occurred among young men but among persons aged 83 and older there were more women than men. The median age at death for men was 77.8 years and for women 85.5 years. The median describes the middle value, that is, one-half of all persons that died, died at a younger or older age than the median age at death.
Annual number of deaths by sex and deaths of 0-year-olds in 2009 to 2019
Year
Total
Males
Females
0-year-olds
total
2009
49 883
25 150
24 733
158
2010
50 887
25 539
25 348
140
2011
50 585
25 335
25 250
143
2012
51 707
25 623
26 084
141
2013
51 472
25 631
25 841
102
2014
52 186
25 748
26 438
124
2015
52 492
25 992
26 500
97
2016
53 923
26 922
27 001
100
2017
53 722
26 895
26 827
102
2018
54 527
27 184
27 343
101
2019
53 949
27 082
26 867
96
Source: Deaths 2019. Statistics Finland
Inquiries: Katariina Heikkilä 029 551 3638, info@stat.fi
Director in charge: Jari Tarkoma
Publication in pdf-format (256.5 kB)
Tables in databases
---
Updated 24.4.2020
Official Statistics of Finland (OSF): Deaths [e-publication].
ISSN=1798-2545. 2019. Helsinki: Statistics Finland [referred: 4.7.2020].
Access method: http://www.stat.fi/til/kuol/2019/kuol_2019_2020-04-24_tie_001_en.html