Published: 30 March 2021
Considerable regional differences in the average result of farms
On the level of the whole country, farms' average result from agriculture was EUR 16,500. The average result varied considerably by region. In Central Ostrobothnia the farm-specific result was highest, around EUR 26,000. Other regions with top positions are Åland and North Ostrobothnia with a farm-specific result of around EUR 21,000 and North Savo with about EUR 19,000. The result was lowest in South Savo, where the average farm-specific result from agriculture was only around EUR 11,000. Central Finland and Pirkanmaa were also in the lower end of the result table.
.
Average euro-denominated farm-specific result from agriculture by region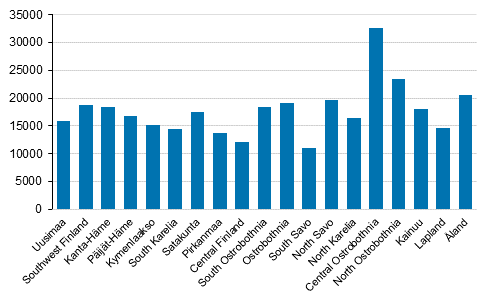 In the review, agriculture and forestry are examined separately. The results of agricultural enterprises are examined in Section 1 of the review. Information based on personal tax data is given in Section 2 of the review and statistics on private forestry in Section 3. Joint-stock farms are at the moment excluded from the statistics.
Source: Statistics on the finances of agricultural and forestry enterprises, Statistics Finland
Inquiries: Juhapekka Kyllönen 029 551 2917
Head of Department in charge: Katri Kaaja
---
Updated 30.3.2021
Official Statistics of Finland (OSF): Statistics on the finances of agricultural and forestry enterprises [e-publication].
ISSN=2489-320X. 2019. Helsinki: Statistics Finland [referred: 16.4.2021].
Access method: http://www.stat.fi/til/mmtal/2019/mmtal_2019_2021-03-30_tie_001_en.html