Published: 5 December 2007
Growth of GDP slowed down slightly in the third quarter of the year
In the third quarter of 2007, the volume of Finland's GDP increased by 0.7 per cent form the previous quarter. Compared to the third quarter of 2006, GDP grew by 3.8 per cent.
In the July to September period, the volume of exports went up by 7.5 per cent and imports grew by 0.7 per cent year-on-year. The volume of private consumption grew by 4.3 per cent and investments increased by 3.0 per cent in the third quarter.
Gross domestic product by quarter at reference year 2000 prices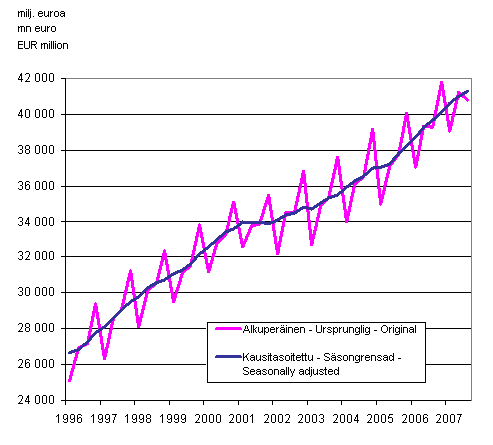 The revision of the method for calculating volume series and value added in quarterly national accounts that was started in 2006 has now been finalised. The new 1990Q1-2007Q3 time series of quarterly accounts now published have been completely recalculated by exploiting, among other things, monthly data on turnover, and are not comparable with previous time series. Annual levels and changes have remained unchanged, because the quarterly accounts time series are always benchmarked to annual accounts. The figures for individual quarters and the change percentages calculated for them have, however, changed when compared to the series published in September. More detailed information on the revision and the changes to the figures for 2006 can be found at the end of the review text.
Volume refers to data on value adjusted for price changes. Volumes for reference year 2000 are expressed relative to the 2000 level in euros.
Source: National Accounts 2007, 3rd quarter. Statistics Finland
Inquiries: Mr Pasi Koikkalainen +358 9 1734 3332, Mr Arto Kokkinen +358 9 1734 3355 kansantalous.suhdanteet@stat.fi
Director in charge: Mr Ari Tyrkkö
---
Last updated 5.12.2007
Official Statistics of Finland (OSF): Quarterly national accounts [e-publication].
ISSN=1797-9765. 3rd quarter 2007. Helsinki: Statistics Finland [referred: 27.2.2020].
Access method: http://www.stat.fi/til/ntp/2007/03/ntp_2007_03_2007-12-05_tie_001_en.html