Published: 22 January 2010
Number of building permits granted for dwellings continued to rise in November as well
In November 2009, building permits were granted for a good 2,200 new dwellings, which is over 60 per cent more than one year earlier. However, the cubic volume covered by all permits granted for the construction of new buildings contracted by just under one-fifth from one year earlier. For industrial and warehouse buildings the cubic volume halved in comparison with the corresponding month of the year before and the number of permits granted for commercial and office buildings was 15 per cent lower than in November 2008.
In January to November 2009, new building permits were granted for a total of 35.5 million cubic metres, which is about one-quarter less than in the corresponding period in 2008. Cubic volumes went down for all building types apart from agricultural buildings. A total of 24,000 new dwellings were granted a building permit, which is five per cent fewer than in the year before. The number of dwellings in detached houses decreased whereas that of dwellings in blocks of flats having been granted a building permit amounted to over one fifth more than in the January to November period in 2008.
Granted building permits, moving variable annual sum (1000 m3)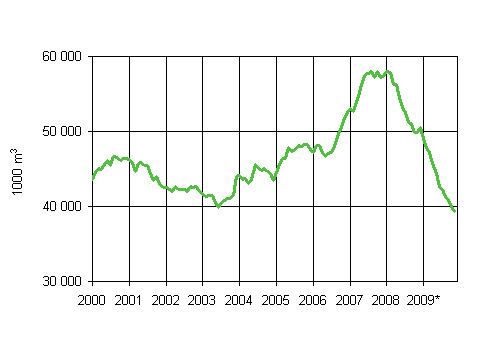 *=Preliminary figures
These data derive from the preliminary data of Statistics Finland's statistics on building permits, which are based on notifications submitted by municipal building supervision authorities about building projects subject to building permits.
Source: Building permits, Statistics Finland
Inquiries: Paula Salminen (09) 1734 2234, Kaj Isaksson (09) 1734 3633, rakennus.suhdanne@stat.fi
Director in charge: Hannele Orjala
Publication in pdf-format (246.4 kB)
Appendix tables
---
Updated 22.01.2010
Official Statistics of Finland (OSF): Building permits [e-publication].
ISSN=1798-4327. November 2009. Helsinki: Statistics Finland [referred: 28.1.2020].
Access method: http://www.stat.fi/til/rl/2009/11/rl_2009_11_2010-01-22_tie_001_en.html