Published: 30 September 2014
Households' indebtedness ratio was 119.5 per cent in the second quarter of 2014
Households' indebtedness ratio rose to 119.5 per cent in the second quarter of 2014. Indebtedness has increased by 2.0 percentage points from one year ago. These data derive from Statistics Finland's financial accounts statistics.
Households' indebtedness ratio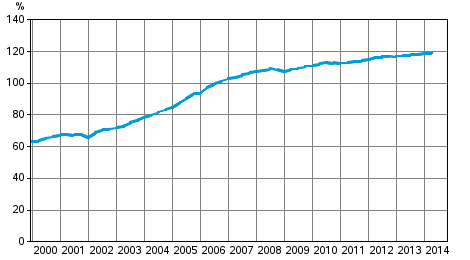 During the second quarter of 2014, households' loan debts increased by EUR 1.4 billion. Households' disposable income also grew, but in relative terms less. As a result of these changes, households' indebtedness ratio increased to 119.5 per cent. Indebtedness ratio went up by 0.6 percentage points from the previous quarter. Households' indebtedness ratio is calculated as the ratio of their loan debts at the end of a quarter to their total disposable income during the preceding four quarters.
At the end of the second quarter of 2014, households had a total of EUR 253 billion in financial assets and EUR 139 billion in debt. During the quarter, debts increased more than financial assets, as a result of which households' net financial assets decreased, amounting to EUR 114 billion at the end of the quarter. Net financial assets refer to the difference between financial assets and liabilities.
In the second quarter, households invested in deposits and investment fund shares. Households have favoured investment funds for some time as net investments in them have been positive for eight successive quarters. As the low interest rate level prevailed, the shift within deposits from fixed-term deposits to cash deposits continued. By contrast, households' net investments in quoted shares were almost EUR one million in negative.
Non-financial corporations' debt financing, i.e. loan debts and financing in the form of debt securities, grew. Debt financing was increased by taking out more loans. The total level of non-financial corporations' debts also grew because the stock of equity liabilities increased. The increase in equity liabilities was in part affected by an increase in the market value of quoted shares. As non-financial corporations' financial assets simultaneously continued declining, the net financial position of non-financial corporations weakened to EUR -223 billion.
Source: Financial accounts, Statistics Finland
Inquiries: Saara Roine 029 551 2922, rahoitus.tilinpito@stat.fi
Director in charge: Leena Storgårds
Publication in pdf-format (265.6 kB)
---
Updated 30.9.2014
Official Statistics of Finland (OSF): Financial accounts [e-publication].
ISSN=1458-8145. 2nd quarter 2014. Helsinki: Statistics Finland [referred: 22.9.2020].
Access method: http://www.stat.fi/til/rtp/2014/02/rtp_2014_02_2014-09-30_tie_001_en.html