Published: 18 December 2018
Investment service companies' operating profit and commission income decreased in the third quarter of 2018
The net operating profit of investment service companies was EUR 25 million in the third quarter of 2018. Some EUR nine million less operating profit was accumulated than in the corresponding quarter last year. Commission income fell by EUR 16 million to EUR 87 million from one year back. These data derive from Statistics Finland's statistics on investment service companies.
Investment service companies' operating profit by quarter in 2014 to 2018, EUR million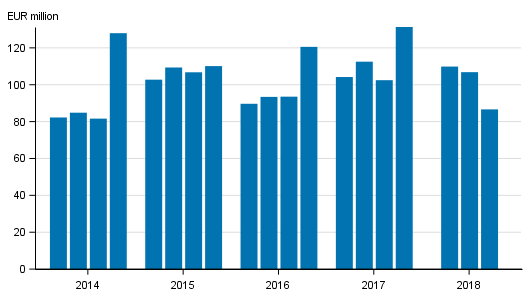 Investment service companies offer their customers services related to investment services such as investment advisory services, asset management, and reception, intermediation and implementation of trading assignments in monetary instruments. Commission income and expenses are the main items related to investment service companies' income and expenses in the profit and loss account. In addition to commission income and expenses, operating profit is considerably affected by administrative expenses. In some cases, other items, such as profit or loss from non-current assets classified as held for sale, can have a major impact on profit for the financial period.¶
Commission income and expenses
Commission income totalled EUR 87 million in the third quarter of 2018. The decrease compared to the corresponding period of last year amounted to EUR 16 million, or 15.5 per cent. Compared to the previous quarter, EUR 20 million less commission income was accumulated. In turn, commission expenses amounted to EUR 21 million, which is EUR five million, or 18.7 per cent less than one year previously. Compared with the previous quarter, there was EUR three million less commission expenses.
Administrative expenses
In the third quarter of 2018, investment service companies had EUR 40 million in administrative expenses, which was EUR four million less than in the year before and EUR seven million less than in the previous quarter. Personnel expenses amounted to EUR 23 million, or some 57 per cent of administrative expenses. Personnel expenses fell by EUR four million from the previous year's corresponding quarter. Other administrative expenses were in turn EUR 17 million.
Balance sheets
At the end of the third quarter of 2018, the aggregate value of the balance sheets was EUR 339 million. The balance sheets decreased by 16.7 per cent year-on-year. The share of own equity of the balance sheet total rose from 61.7 to around 64.0 per cent. Due to investment service companies' renewed FINREP reporting practices, the balance sheet items are not in all respects fully comparable between 2018 and earlier years.
At the end of the third quarter of 2018, there were 58 investment service companies operating in Finland, of which 38 generated a positive operating result.
Source: Investment firms, Statistics Finland
Inquiries: Antti Suutari 029 551 3257, Jarkko Kaunisto 029 551 3551
Director in charge: Ville Vertanen
Publication in pdf-format (245.4 kB)
---
Updated 18.12.2018
Official Statistics of Finland (OSF): Investment service companies [e-publication].
ISSN=2342-5202. 3rd quarter 2018. Helsinki: Statistics Finland [referred: 23.10.2019].
Access method: http://www.stat.fi/til/spy/2018/03/spy_2018_03_2018-12-18_tie_001_en.html