Published: 16 June 2015
Road traffic claimed 224 lives in 2014
According to Statistics Finland's preliminary data, 5,294 road traffic accidents involving personal injury occurred in 2014. In them, 224 persons were killed and 6,677 injured. There were 34 fewer deaths than in the year before and the number of injured persons, in turn, remained on level with the previous year in 2014.
Road traffic fatalities by age group in 1995 to 2014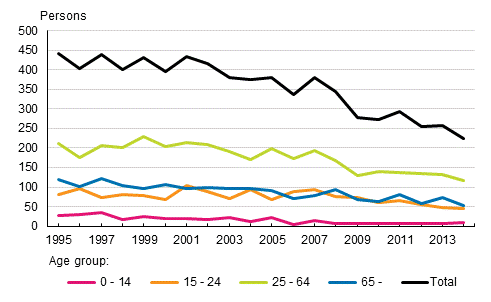 Examined by age group, the number of road traffic fatalities decreased in nearly every age group. The number decreased most among the elderly, aged over 64. Fatalities numbered 52, which is 21 fewer than in the year before. The number of road traffic fatalities among adults (aged 25 to 64) decreased by 13 persons and among young people (aged 15 to 24) by four persons. Road traffic fatalities among persons aged under 14 increased a bit. Slightly over one-third of those injured in road traffic accidents were young persons aged under 25.
The number of road traffic fatalities among moped and motorcycle riders decreased in 2014. Two moped riders and 17 motorcycle riders died in road traffic accidents. Compared with the previous year, three fewer moped riders and seven fewer motorcycle riders died. Altogether, 36 pedestrians were killed in road traffic accidents in 2014, which is two more than in 2013. The number of cyclists' road traffic deaths was 24, or four more than in 2013.
A majority of accidents resulting in death occurred in head-on collisions and swerving accidents. Seventy-seven people were killed in head-on collisions and 69 in swerving accidents. Most injuries were caused in swerving accidents.
In 2014, the number of alcohol-related accidents involving personal injury was 533. Of these, 459 were drunken driving accidents. A total of 41 persons were killed and 575 persons injured in drunken driving accidents. There were 16 fewer fatalities and 101 fewer injured persons than in 2013.
Source: Transport and Tourism: Statistics on road traffic accidents. Statistics Finland
Inquiries: Tiina Herttuainen 029 551 3619, Irmeli Segerholm 029 551 3219, liikenne.matkailu@stat.fi
Director in charge: Hannele Orjala
---
Updated 16.6.2015
Official Statistics of Finland (OSF): Statistics on road traffic accidents [e-publication].
ISSN=2342-3846. 2014. Helsinki: Statistics Finland [referred: 14.10.2019].
Access method: http://www.stat.fi/til/ton/2014/ton_2014_2015-06-16_tie_001_en.html