These statistics have been discontinued.
No new data will be produced from these statistics.
Appendix figure 1. Doctorate and licentiate degrees in 1993 - 2009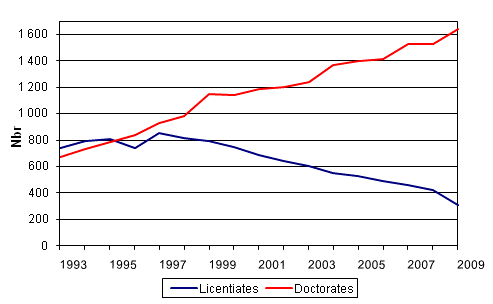 In 2009, 1642 doctorate degrees were completed, which was more than 100 degrees more that in the previous year. The number of doctorate degrees is now triple compared with the situation at the beginning of the early 1990s. The number of licentiates has halved in ten years. Only 307 licentiate degrees were completed in 2009.
Source: Human resources of science and technology 2009. Statistics Finland
Inquiries: Marianne Kaplas (09) 1734 3421, tiede.teknologia@stat.fi
Director in charge: Leena Storgårds
---
Updated 24.3.2011
Official Statistics of Finland (OSF): Human resources of science and technology [e-publication].
ISSN=1797-3244. 2009, Appendix figure 1. Doctorate and licentiate degrees in 1993 - 2009 . Helsinki: Statistics Finland [referred: 29.1.2020].
Access method: http://www.stat.fi/til/tthv/2009/tthv_2009_2011-03-24_kuv_001_en.html