Published: 31 March 2006
Industrial grew by nearly one per cent in February from January
According to Statistics Finland, in February 2006 seasonally adjusted industrial output grew by 0.9 per cent from January 2005. Seasonally adjusted volume of industrial output grew by 3.1 per cent year-on-year from February 2005.
Seasonally adjusted change in industrial output from previous month, %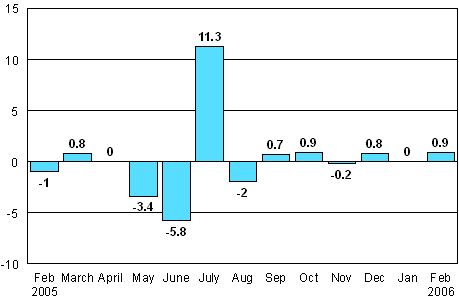 Capacity utilisation rate in manufacturing was 83.1 per cent in February, which is 0.4 percentage points higher than in February 2005. In the pulp and paper industry, capacity utilisation rate was 92 per cent and in the metal industry 86 per cent. In the chemical industry, capacity utilisation rate was 78 per cent and in other manufacturing 76 per cent.
Revised data for February 2006 will be published at 9 am on 28 April 2006 in connection with the industrial output data for March 2006. Because of the method used, seasonally adjusted figures for previous months may change even if the original figures do not become revised. The seasonally adjusted figures will also be adjusted for working days.
Source: Volume Index of Industrial Output 2006, February. Statistics Finland
Inquiries: Mr Kari Rautio +358 9 1734 2479, volyymi.indeksi@stat.fi
Director in charge: Ms Hannele Orjala
---
Last updated 31.3.2006
Official Statistics of Finland (OSF): Volume index of industrial output [e-publication].
ISSN=1798-9272. February 2006. Helsinki: Statistics Finland [referred: 21.1.2020].
Access method: http://www.stat.fi/til/ttvi/2006/02/ttvi_2006_02_2006-03-31_tie_001_en.html