Published: 19 November 2013
Direct natural resource inputs decreased by 2 per cent
In 2012, direct inputs used by the national economy totalled around 240 million tonnes, of which domestic inputs made up 185 million tonnes. The biggest domestic natural resource inputs are ore, gravel and sand, and wood and plants. Plants and wild animals accounted for around five per cent of domestic inputs, i.e. ten million tonnes. Over the past decades, the use of domestic natural resources has been at its lowest during the 1990s recession, in 1993 around 140 million tonnes.
Total material requirement by material groups 1970–2012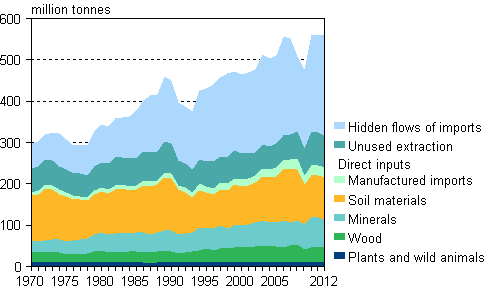 In 2012, Finland's national economy used altogether 560 million tonnes of natural resources. Of this amount, around 245 million tonnes remained abroad as hidden flows and about 75 million tonnes were extracted, but unused in the home country. Unused natural resources in the home country come particularly from mining and quarrying, transfer of soil materials and felling. The amount of hidden flows and unused natural resources is bigger than that of inputs.
In 2012, the biggest changes in domestic inputs from the year before were decreases in peat extraction and increases in mining of metal ores. Direct inputs of imported processed products diminished by nearly five per cent, but their hidden flows grew by almost four per cent. This was occasioned by growing imports of ores and electrical equipment. Large hidden flows from abroad are connected to them.
Statistics Finland started publishing the Economy-wide material flow accounts in 2011. The statistics are part of environmental accounts, on which the European Union passed a Regulation in 2011 and the UN gave an international recommendation last year.
Material intensity of Finland's economy 1970-2012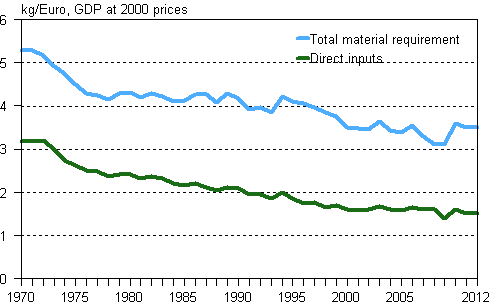 Source: Economy-wide material flow accounts 2012, Statistics Finland
Inquiries: Simo Vahvelainen 09 1734 3457, Leo Kolttola 09 1734 3234, Jukka Muukkonen 09 1734 3224, environmental.accounts@stat.fi
Director in charge: Leena Storgårds
Publication in pdf-format (221.2 kB)
Tables in databases

Pick the data you need into tables, view the data as graphs, or download the data for your use.

Appendix tables
---
Updated 19.11.2013
Official Statistics of Finland (OSF): Economy-wide material flow accounts [e-publication].
ISSN=2242-1289. 2012. Helsinki: Statistics Finland [referred: 9.12.2023].
Access method: http://www.stat.fi/til/kanma/2012/kanma_2012_2013-11-19_tie_001_en.html