These statistics have been discontinued.
No new data will be produced from these statistics.
Published: 10 September 2008
Phenomenal growth in imports of high technology from Eastern Asia
Finnish exports of high technology products rose to close on EUR 11.7 billon in 2007. Even though exports grew by nearly EUR 500 million from the year before, the share of high technology products of all Finnish exports fell to 17.8 per cent. By contrast, the imports of high tech-nology grew by close on EUR 1.5 billion and stood at a total of EUR 9.2 billion. Their share of all imports to Finland was 15.5 per cent. The surplus of the foreign trade in high technology products was over EUR 2.4 billion in 2007.
Of the total value of exports of high technology, EUR 5.3 billion was to EU countries. The EUR 500 million increase was partly due to the accession of Bulgaria and Romania to the European Union. Imports of high technology from the EU countries went up by EUR 300 million and reached the value of EUR 3.1 billion. The share of the European Union of exports and imports of high technology was 46 and 33 per cent, respectively.
Asia's importance as Finland's trading partner in high technology continued to grow. Exports to the countries in the area grew by a couple of hundred million euro, but the increase in imports was sizable at EUR 1.2 billion. The imports, whose value exceeded EUR 5 billion and which originated nearly entirely from Eastern Asia, made up 55 per cent of all of Finland's imports of high technology. The value of exports was EUR 1.3 billion and Asia's share stood at 27 per cent.
The most important destination countries of high technology products were Russia and Germany, both of which accounted for a good EUR one billion of the value of the exports. After Great Britain and the United Arab Emirates, China was the fifth most important export country. China's status as a source country of high technology imports was uncontested. Imports grew by EUR 600 million and reached a total of EUR 2.6 billion. China's share of all high technology imports to Finland was 28 per cent. The deficit of the foreign trade in high technology products with China rose to EUR 2 billion. In addition to China, also South Korea, Japan, Taiwan, Malaysia, Singapore, Thailand and the Philippines were significant Eastern Asian trading partners. Finland's imports of high technology products from all these countries markedly exceeded Finland's exports to them.
Balance of trade in high technology products between Finland and certain countries in 2007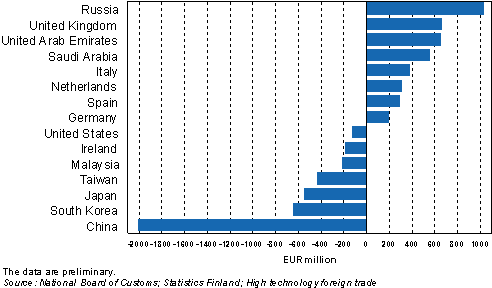 Source: High technology foreign trade 2007, Statistics Finland
Inquiries: Tero Luhtala (09) 1734 3327, Markku Virtaharju (09) 1734 3290
Director in charge: Kaija Hovi
---
Updated 10.9.2008
Official Statistics of Finland (OSF): High technology foreign trade [e-publication].
2007. Helsinki: Statistics Finland [referred: 15.4.2021].
Access method: http://www.stat.fi/til/ktek/2007/ktek_2007_2008-09-10_tie_001_en.html