A total of 39,906 candidates in the Municipal elections 2004
Of the nineteen parties in the register of political parties, eighteen parties nominated candidates, a total of 39,906 candidates in 416 municipalities. Among the candidates 24,002 are men and 15,904 women. Of the candidates, 8,668 act as councillors in the present municipal councils.
The proportion of female candidates rose by 1.7 percentage points from the previous Municipal elections and is now 39.9 per cent. Women's proportion of candidates in different elections has been higher than this only once, in the 1991 Parliamentary elections. Then female candidates made up 41.2 per cent of all candidates. In these elections the five largest parties had the following proportions of female candidates: the Green League 52.9 per cent, the National Coalition Party 40.4 per cent, the Centre Party of Finland 39.7 per cent, the Social Democratic Party of Finland 39.2 per cent and Left Alliance 36.0 per cent.
The age structure of the candidates does not differ greatly from that of the previous Municipal elections. The majority (71.3%) of the candidates are aged 40 or older. The proportion of young people aged under 30 is 11.3 per cent. The corresponding percentages in the previous Municipal elections were 71.0 and 10.4 per cent. Although the proportion of over 40-year-olds is nearly the same in these elections, among them the number of older candidates increased clearly from the previous Municipal elections. The number of over 55-year-olds was around 2,700 higher and correspondingly, that of the candidates aged 40 to 54 about 2,500 lower than in 2000. The average age of the candidates is 46.7 years.
Women and men as a proportion of candidates in Municipal elections 2004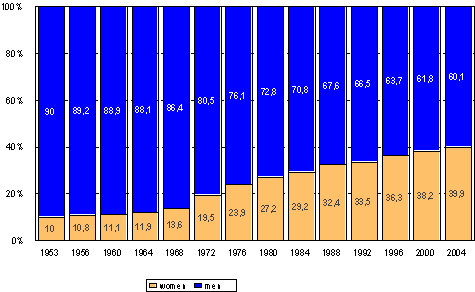 In Municipal elections candidates can be nominated by registered parties and voter's associations established by eligible voters. Parties can together form electoral alliances and voter's associations may set up joint lists. Each party or electoral alliance may nominate a number of candidates equalling the number of councillors to be elected multiplied by one and a half.
---
Päivitetty 26.10.2004
Palaute:
sähköposti:
Tilasto: (none) [verkkojulkaisu].
(none), A total of 39,906 candidates in the Municipal elections 2004 . Helsinki: (none) [viitattu: 2.7.2022].
Saantitapa: http://www.stat.fi/til/kvaa/2004/kvaa_2004_2004-10-07_kat_001_en.html