Published: 15 April 2010
Birth rate highest in 40 years
Corrected on 15 April 2010 at 10.30. The correction is indicated in red, was previously 1.93.
According to Statistics Finland's data on population changes, at the fertility rate prevailing in 2009, a woman would give birth to 1.86 children during her reproductive period. This indicator of birth rate is known as the total fertility rate. The birth rate was last higher than in 2009 in 1969 when the total fertility rate was 1.94 . In order for the population to renew itself in the long term, the total fertility rate should be approximately 2.1.
Total fertility rate in 1900–2009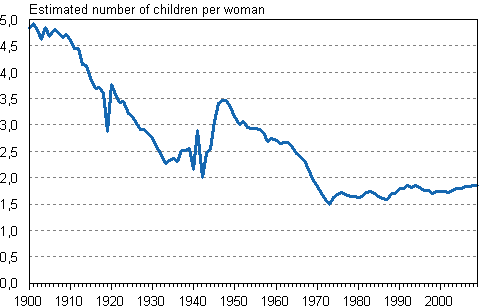 A total of 60,430 children were born in Finland in 2009, which was 900 more than in the year before. The number of births last exceeded 60,000 in 1996.
On the average, the women who gave birth in 2009 were of the same age as in the previous year. The mean age of all women at confinement remained unchanged at 30.1 years. Women's mean age at first confinement was also unchanged in 2009, or 28.2 years. During the 2000s, the mean age at first confinement has gone up by 0.6 years.
In 2009, total fertility rate was above the threshold on population's renewal in five regions: 2.40 in North Ostrobothnia, 2.38 in Central Ostrobothnia, 2.18 in South Ostrobothnia and 2.15 in Ostrobothnia and Kainuu. The birth rate was lowest in the region of South Karelia where the total fertility rate was 1.67. The region of Uusimaa had the second lowest birth rate of 1.68.
Number of live births, total fertility rate and mother's mean age by live births in 2000–2009
| | | | | | | | | | | |
| --- | --- | --- | --- | --- | --- | --- | --- | --- | --- | --- |
| Year | 2000 | 2001 | 2002 | 2003 | 2004 | 2005 | 2006 | 2007 | 2008 | 2009 |
| | | | | | | | | | | |
| Number of live births | 56 742 | 56 189 | 55 555 | 56 630 | 57 758 | 57 745 | 58 840 | 58 729 | 59 530 | 60 430 |
| Total fertility rate | 1,73 | 1,73 | 1,72 | 1,76 | 1,80 | 1,80 | 1,84 | 1,83 | 1,85 | 1,86 |
| Mother's mean age by all live births | 29,9 | 29,9 | 29,9 | 30,0 | 30,0 | 30,0 | 30,0 | 30,0 | 30,1 | 30,1 |
| Mother's mean age by first live birth | 27,6 | 27,6 | 27,7 | 27,9 | 27,8 | 27,9 | 28,0 | 28,1 | 28,2 | 28,2 |
Source: Population and Cause of Death Statistics. Statistics Finland
Inquiries: Timo Nikander (09) 1734 3250
Director in charge: Jari Tarkoma
Publication in pdf-format (269.6 kB)
Tables in databases

Pick the data you need into tables, view the data as graphs, or download the data for your use.

Appendix tables
---
Updated 15.4.2010
Official Statistics of Finland (OSF): Births [e-publication].
ISSN=1798-2413. 2009. Helsinki: Statistics Finland [referred: 4.10.2023].
Access method: http://www.stat.fi/til/synt/2009/synt_2009_2010-04-15_tie_001_en.html