Appendix figure 1. Total fertility rate of men born in Finland by level of education in 2006 to 2020 ¹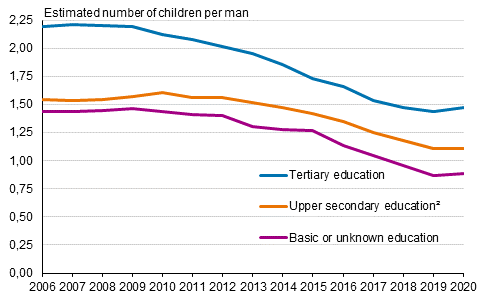 1. Information on fathers of children born outside marriage is obtained only when paternity is confirmed, and that is why it is received at a delay. For this reason, there may be slight deficiencies in the data for 2020 concerning fathers. For around one per cent of children, information on fathers is completely missing.
2. Includes post-secondary non-tertiary education.
Source: Births 2020. Statistics Finland
Inquiries: Juhana Nordberg 029 551 3051, Timo Nikander , info@stat.fi
Head of Department in charge: Hannele Orjala
---
Updated 03.12.2021
Official Statistics of Finland (OSF): Births [e-publication].
ISSN=1798-2413. 02 2020, Appendix figure 1. Total fertility rate of men born in Finland by level of education in 2006 to 2020 ¹ . Helsinki: Statistics Finland [referred: 11.6.2023].
Access method: http://www.stat.fi/til/synt/2020/02/synt_2020_02_2021-12-03_kuv_001_en.html