Published: 30 January 2013
13 per cent of population in low income households
The low income rate (people at risk of poverty), or the proportion of people living in low income households of all Finns, has remained at around 13 per cent since 2006. The number of people in low income household has been approximately 700,000 persons annually. According to Statistics Finland's income distribution statistics, the low income rate was 12.9 per cent and there were 688,000 persons in low income households in 2011.
Number of people living in low income households and low income rate, 1995–2011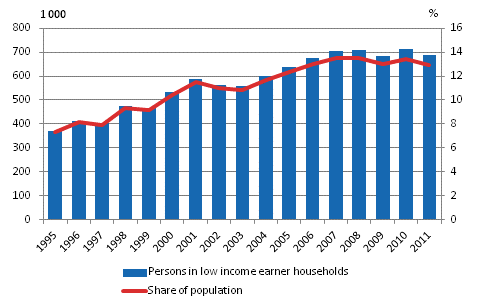 Low income is defined relative to the population's median income. A person whose household income per consumption unit 1) is less than 60 per cent of the median income is considered living in a low income household. This income threshold was approximately EUR 13,700 per year, approximately EUR 1,140 per month, in a one person household in 2011.
Low income is recorded based on household disposable cash income calculated per the household's consumption unit.
All wages, salaries, entrepreneurial income and property income, excluding imputed items and profits from sale of property, received by the household members, as well as current transfers to the household from the public sector or other households are considered as income. Taxes and tax-like payments have been deducted from the income sum and this gives the disposable cash income of the household. This is divided by the household's consumption units.
Statistics Finland's income distribution statistics are based on a sample that consists of approximately 10,000 households. The same data are used to compile the European Union's Income and Living Conditions Survey, EU-SILC. The data for the statistics are collected with interviews and from administrative registers.
1) The consumption units are based on the so-called OECD's modified scale. One adult in the household is one consumption unit. Other persons in the household aged at least 14 each are 0.5 consumption units and children aged 0 to 13 each are 0.3 consumption units. A household with one adult member constitutes one consumption unit, while a household consisting of spouses and one child aged under 14 together has 1.8 consumption units.
Source: Income Distribution Statistics 2011, preliminary data, Statistics Finland
Inquiries: Hannele Sauli 09 1734 3497, Kaisa-Mari Okkonen 09 1734 3408
Director in charge: Riitta Harala
Tables in databases

Pick the data you need into tables, view the data as graphs, or download the data for your use.
---
Updated 30.1.2013
Official Statistics of Finland (OSF): Income distribution statistics [e-publication].
ISSN=1799-1331. Poverty 2011. Helsinki: Statistics Finland [referred: 1.6.2023].
Access method: http://www.stat.fi/til/tjt/2011/02/tjt_2011_02_2013-01-30_tie_001_en.html