Published: 18 December 2015
Services employed in 2014
According to Statistics Finland, there were around 364,000 enterprises operating in Finland in 2014. These enterprises had a total of 395,000 establishments. Measured with the concept full-year employment, the establishments employed 1.4 million persons. Nearly one-half of the employed worked in various service industries. The importance of services industries in employment varied considerably by region. However, in all regions, the share of services in the number of personnel at establishments exceeded 30 per cent.
Share of service industries¹ in the number of personnel of establishments by region in 2014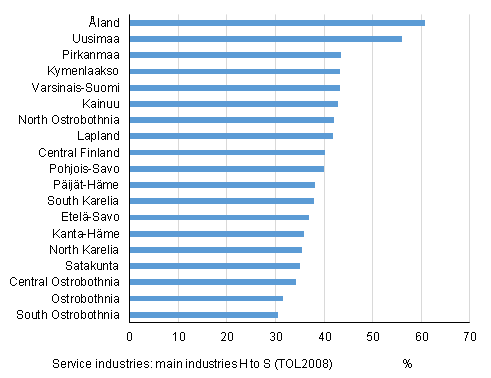 The combined turnover of establishments was EUR 385 billion. The share of manufacturing was 44 per cent, that of trade 31 per cent, and that of services 23 per cent of the total turnover. The share of manufacturing in turnover exceeded 60 per cent in three regions: Ostrobothnia, Satakunta and Lapland. The importance of industry in accumulating turnover was lowest in relative terms in Åland and Uusimaa.
Share of industry¹ in the turnover of establishments by region in 2014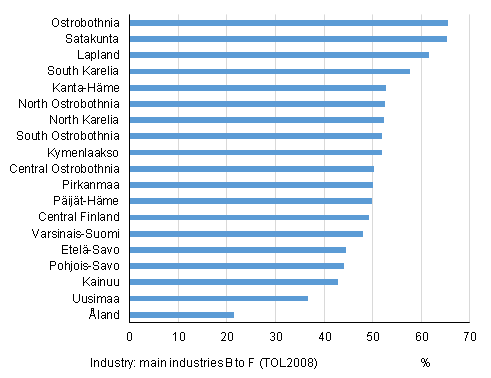 The three largest regions, Uusimaa, Pirkanmaa and Varsinais-Suomi, once again produced a majority, 62 per cent, of the combined turnover of establishments and employed 54 per cent of the personnel of establishments.
The average size of an establishment was 3.6 persons. The average turnover per establishment was EUR 0.9 million and EUR 0.3 million per person.
Source: Regional statistics on entrepreneurial activity 2014, Statistics Finland
Inquiries: Merja Kiljunen 029 551 3284, rakenne.tilastot@stat.fi
Director in charge: Mari Ylä-Jarkko
Publication in pdf-format (203.0 kB)
Tables in databases

Pick the data you need into tables, view the data as graphs, or download the data for your use.

Appendix tables
---
Updated 18.12.2015
Official Statistics of Finland (OSF): Regional statistics on entrepreneurial activity [e-publication].
ISSN=2342-6268. 2014. Helsinki: Statistics Finland [referred: 8.12.2023].
Access method: http://www.stat.fi/til/alyr/2014/alyr_2014_2015-12-18_tie_001_en.html