Published: 14 May 2019
One-half of household-dwelling units live in dwellings completed after 1980
Construction of the 1970s and 1980s is emphasised in Finnish dwellings. According to Statistics Finland, almost one-fifth of household-dwelling units reside in dwellings completed in the 1970s. One-half of household-dwelling units live in dwellings completed after 1980. Every tenth household-dwelling unit resides in dwellings completed in the current decade.
Household-dwelling units by building type and completion decade in 2018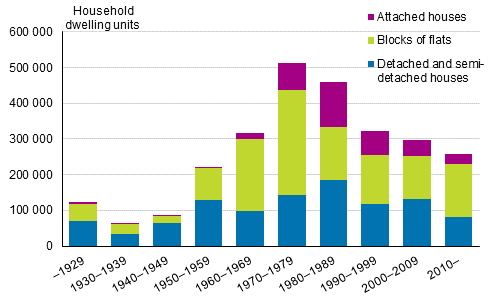 When comparing the dwellings in the 2018 dwelling stock based on the decade of completion and type of building, we find that detached houses and terraced houses were popular in the 1980s. In the two decades prior to this, the dwelling stock was dominated by blocks of flats. Most new dwellings are also located in blocks of flats.
Construction has focused on Uusimaa in the twenty-first century
There were 614,000 dwellings completed after 1999 in the 2018 dwelling stock. Slightly over one-third of the dwellings completed in the current millennium are located in Uusimaa. Other clusters of housing construction were Pirkanmaa, North Ostrobothnia and Southwest Finland.
Dwellings completed in the 2000s by region in 2018, %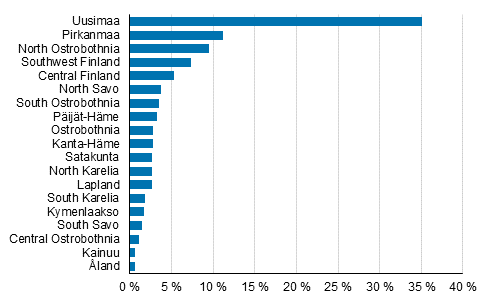 Number of those living alone continues growing
Over the last decade, one of the clearest trends in housing has been that living alone has become increasingly common. This development continued also in 2018. In comparison with the previous year, the number of persons living alone grew by 2.5 per cent. There were nearly 1.2 million persons living alone, which was 44 per cent of all household-dwelling units.
The medium size of household-dwelling units fell below two for the first time in 2018 and was 1.99. The number of two-person households increased slightly from the previous year, but the number of household-dwelling units with more members fell.
Household-dwelling units by number of persons in 2005 to 2018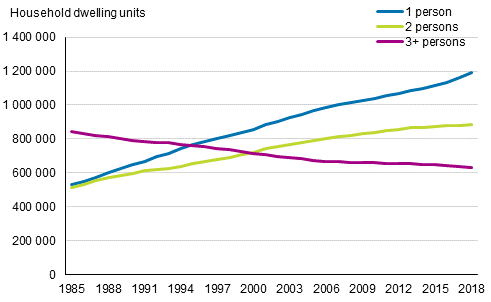 Source: Dwellings and Housing Conditions, Statistics Finland
Inquiries: Otto Kannisto 029 551 3044, Marja Hermiö 029 551 3211, info@stat.fi
Director in charge: Jari Tarkoma
Publication in pdf-format (239.3 kB)
Tables in databases

Pick the data you need into tables, view the data as graphs, or download the data for your use.

Appendix tables
---
Updated 14.5.2019
Official Statistics of Finland (OSF): Dwellings and housing conditions [e-publication].
ISSN=1798-6761. 2018. Helsinki: Statistics Finland [referred: 30.5.2023].
Access method: http://www.stat.fi/til/asas/2018/asas_2018_2019-05-14_tie_001_en.html