Published: 17 May 2016
Immigration gain decreased clearly from one year earlier
According to Statistics Finland, Finland's gain in international migration decreased by 3,580 persons in 2015 from one year earlier. Last year, net immigration amounted to 12,441 persons, which was the smallest number in nine years. Finland received a migration gain of 14,737 persons from immigration of foreign citizens.
Migration between Finland and other countries 1993–2015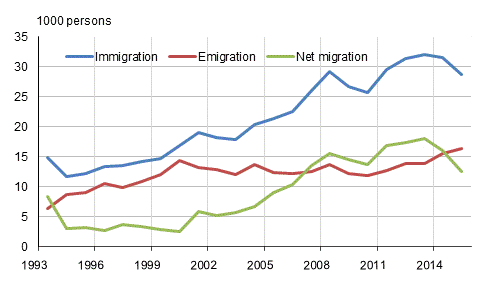 According to Statistics Finland, 28,746 persons immigrated to Finland from foreign countries during 2015. The figure is 2,761 lower than one year before. Emigration to abroad from Finland increased by 819 persons and amounted to 16,305. During 2015, net immigration totalled 12,441 persons.
Last year, 10,899 persons moved from Finland to other EU countries. Emigration to the EU countries was 790 persons up on the year before. Immigration from the EU countries to Finland decreased by 2 288 persons and amounted to 13,090. In 2015, Finland had a migration gain of 2,191 persons from the EU countries. Finland's migration gain from the EU countries was clearly lower than in the previous year.
In 2015, the number of intermunicipal migrations totalled 280,484, which was 11,976 more than in 2014. The number of migrations between regions was 132,657 and it grew by 7,574. Altogether 4,402 more migrations inside regions were made than in 2014. In 2015, intramunicipal migrations numbered 613,201, which is 42,135 more than in 2014.
When looking at migration inside the country, the region of Uusimaa had the largest and the region of Pirkanmaa the second largest migration gain. In Uusimaa, the gain amounted to 5,949 and in Pirkanmaa to 1,367 persons. Migration gain relative to the population in Mainland Finland was the largest in Uusimaa, where the relative migration gain was four per mil. The relative migration gain in Pirkanmaa was only slightly lower than in Uusimaa. The region having suffered the largest population loss in migration inside the country was North Ostrobothnia, where the migration loss was 1,044 persons. Kainuu had the largest relative migration loss of eight per mil. Relative migration loss was the second largest in Lapland. Fourteen regions suffered migration loss in intramunicipal migration.
No region suffered migration loss in migration between foreign countries. The number of regions with migration loss drops somewhat when net international migration is taken into consideration. The sum of net immigration and net emigration was negative in ten regions. In relative terms, the biggest migration gain in Mainland Finland from international migration was seen in Ostrobothnia and the smallest in South Ostrobothnia.
Internal migration and in- and out-migration 2005–2015
| | | | | | |
| --- | --- | --- | --- | --- | --- |
| Year | Intermunicipal | Intramunicipal | Immigration | Emigration | Net migration |
| 2005 | 268 152 | 623 817 | 21 355 | 12 369 | 8 986 |
| 2006 | 265 690 | 599 876 | 22 451 | 12 107 | 10 344 |
| 2007 | 272 510 | 595 760 | 26 029 | 12 443 | 13 586 |
| 2008 | 262 704 | 567 369 | 29 114 | 13 657 | 15 457 |
| 2009 | 257 854 | 577 409 | 26 699 | 12 151 | 14 548 |
| 2010 | 264 611 | 575 074 | 25 636 | 11 905 | 13 731 |
| 2011 | 275 157 | 600 520 | 29 481 | 12 660 | 16 821 |
| 2012 | 274 857 | 594 956 | 31 278 | 13 845 | 17 433 |
| 2013 | 266 044 | 577 760 | 31 941 | 13 893 | 18 048 |
| 2014 | 268 021 | 571 553 | 31 507 | 15 486 | 16 021 |
| 2015 | 280 484 | 613 261 | 28 746 | 16 305 | 12 441 |
The regional division in all years is the one valid on 1 January 2016
Source: Population and Justice Statistics. Statistics Finland
Inquiries: Matti Saari 029 551 3401, info@stat.fi
Director in charge: Jari Tarkoma
Publication in pdf-format (280.8 kB)
Tables in databases

Pick the data you need into tables, view the data as graphs, or download the data for your use.

Appendix tables
---
Updated 17.5.2016
Official Statistics of Finland (OSF): Migration [e-publication].
ISSN=1797-6782. 2015. Helsinki: Statistics Finland [referred: 2.6.2023].
Access method: http://www.stat.fi/til/muutl/2015/muutl_2015_2016-05-17_tie_001_en.html