Published: 13 March 2012
Turnover of construction enterprises grew by 10.7 per cent in the last quarter of 2011
The turnover of construction enterprises grew by 10.7 per cent in the fourth quarter of 2011 when compared with the respective period one year previously. In the last quarter, the turnover of building construction went up by 10.5 per cent and that of specialised construction by 11.4 per cent. The turnover of civil engineering grew by 8.8 per cent.
Year-on-year change in turnover in the 10/2011–12/2011 and 10/2010–12/2010 time periods, % (TOL 2008)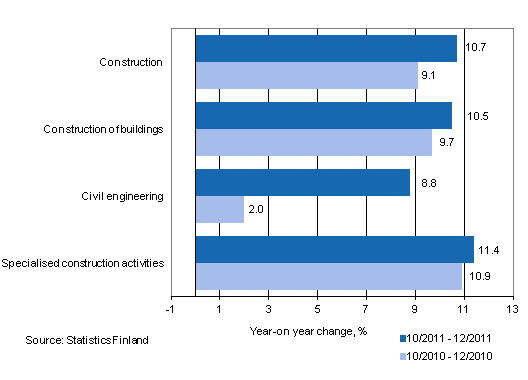 The
sales volume
of construction enterprises increased by 4.0 per cent year-on-year in the fourth quarter of 2011. In building construction the sales volume grew by 3.8 per cent and in specialised construction by 4.6 per cent in the last quarter. The sales volume of civil engineering grew by 1.6 per cent in the fourth quarter.
The volume index of enterprises' sales is calculated by removing the effect of price changes from the turnover index series.
When examining the whole of 2011, no significant turn occurred in the development of the turnover of construction enterprises, but the growth was fairly steady throughout the year. The turnover went up by 11.3 per cent and the sales volume by 8.4 per cent from the year before.
Source: Index of turnover of construction 2011, December, Statistics Finland
Inquiries: Mira Kuussaari 09 1734 3538, Heli Suonio 09 1734 2481, rakennus.suhdanne@stat.fi
Director in charge: Hannele Orjala
Publication in pdf-format (231.3 kB)
Tables in databases

Pick the data you need into tables, view the data as graphs, or download the data for your use.

Appendix tables
---
Updated 13.3.2012
Official Statistics of Finland (OSF): Index of turnover of construction [e-publication].
ISSN=1798-5935. December 2011. Helsinki: Statistics Finland [referred: 7.12.2023].
Access method: http://www.stat.fi/til/rlv/2011/12/rlv_2011_12_2012-03-13_tie_001_en.html