Published: 22 March 2016
Drunken driving caused by narcotic substances increased by 19.7 per cent
According to Statistics Finland's data, a total of 413,200 offences were recorded in 2015 by the police, customs and border guard in the whole country, which is 4,700 offences (1.1 per cent) fewer than one year before. In all, 262,000 persons were suspected of the 236,500 offences solved in 2015, which is 1,300 (0.5 per cent) lower than one year before. Victims of violent offences recorded numbered 37,400 persons
Figure 5. Drunken driving offences in 1980–2015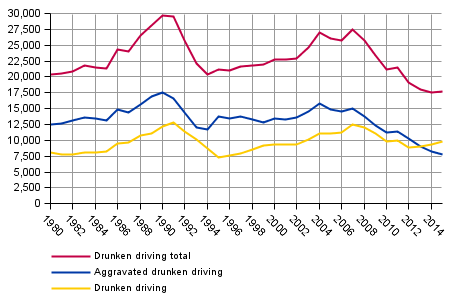 Aggravated drunken driving decreased by 5.9 per cent and other drunken driving increased by 5.6 per cent from 2014. In all, 17,600 drunken driving offences were recorded, which was 30 cases or 0.2 per cent more than in the previous year. The number of drunken driving offences recorded has primarily been decreasing in the past ten years. They have fallen by over one-third from the record figures of 1990.
In 69.0 per cent of drunken driving cases the intoxicant was alcohol and in 26.8 per cent some other narcotic substance. The remaining 4.2 per cent had used both. Drunken driving caused by alcohol decreased by 6.4 per cent, that caused by narcotic substances increased by 19.7 per cent and the combined use of alcohol and narcotic substances grew by 12.4 per cent.
Drunken driving offences by region per 100,000 population in 2015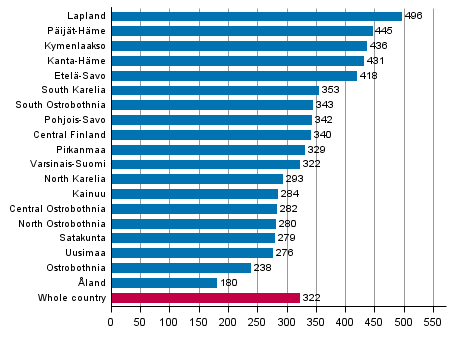 In 2015, a total of 405,800 cases of endangerment of traffic safety, traffic infractions, violations of social welfare legislation on road traffic and motor vehicle infractions were registered, which was 1.1 per cent fewer than in 2014. Most of them were offences found out in connection with police surveillance and guidance. The recorded number of aggravated endangerment of traffic safety was 3,900, which was 1.5 per cent more than in 2014. The police recorded 282,600 cases of exceeding speed limits, which was 3.8 per cent lower than in the year before. Problems connected to the re-organisation of automatic traffic control brought about a substantial fall in the number of traffic offences recorded in the early part of 2014 compared with 2013. The figures for 2013 are not fully comparable with those for 2012, because exceeding speed limits detected by automatic traffic control towards the end of 2012 were recorded in the early part of 2013.
More detailed data on offences reported in 2015 and persons suspected of solved offences and their background are available in the review published on 22 March 2016 and from the PX-Web database service . The database table describing reported domestic violence and intimate partner violence will be updated in connection with the release of 30 May 2016.
Source: Statistics on offences and coercive measures 2015, Offences reported. Statistics Finland
Inquiries: Kimmo Haapakangas 029 551 3252, rikos@stat.fi
Director in charge: Jari Tarkoma
Publication in pdf-format (632.3 kB)
---
Updated 22.3.2016
Official Statistics of Finland (OSF): Statistics on offences and coercive measures [e-publication].
ISSN=2342-9178. Reported offences, 1st quarter 2015. Helsinki: Statistics Finland [referred: 11.8.2022].
Access method: http://www.stat.fi/til/rpk/2015/13/rpk_2015_13_2016-03-22_tie_001_en.html