Published: 20 April 2007
Number of births increased
According to Statistics Finland's data on population changes, 58,840 children were born in Finland in 2006, which is 1,095 children more than in the year before.
At the fertility rate of 2006, a woman would give birth to 1.84 children during her reproductive period. This indicator of fertility is known as the total fertility rate. In 2005, it was 1.80 children per one woman.
On the average, the women who gave birth in 2006 were of the same age as in the previous year. The mean age of all women at confinement remained unchanged at 30 years. Women's mean age at first confinement was 28.0 years in 2006, having been 27.9 years in the year before.
Live births 1971-2006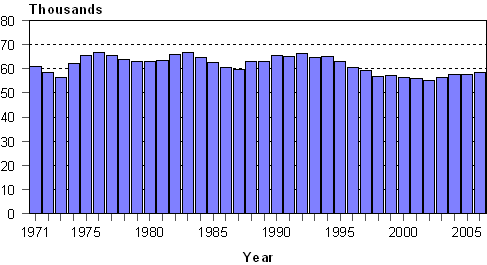 Source: Population and Cause of Death Statistics. Statistics Finland.
Inquiries: Mr Timo Nikander +358 9 1734 3250, vaesto.tilasto@stat.fi
Director in charge: Mr Jari Tarkoma
---
Last updated 20.4.2007
Official Statistics of Finland (OSF): Births [e-publication].
ISSN=1798-2413. 2006. Helsinki: Statistics Finland [referred: 9.8.2022].
Access method: http://www.stat.fi/til/synt/2006/synt_2006_2007-04-20_tie_001_en.html