Published: 20 November 2012
Even less municipal waste deposited at landfills
The amount of municipal waste deposited at landfills has decreased already for five years. In year 2011, a total of 1.1 million tonnes waste was deposited at landfills, which includes a fall of nearly 30 per cent from five years ago and a drop of 4.2 per cent from last year. At the same time, the share of landfills in waste treatment decreased by five percentage points. Approximately 206 kilograms of waste per capita was transported to landfills. The corresponding average in the EU Member States is 230 kilograms, but the differences between countries are considerable. For instance, in Germany and Sweden, only a few kilograms of landfill waste is produced per capita.
Municipal waste by treatment method in 2002–2011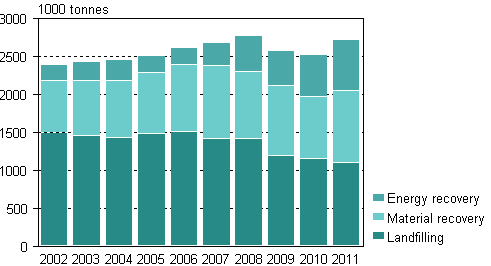 Households' willingness to sort their waste is high. For instance, according to a recently published Household Budget Survey, over 80 per cent of households sort cartons regularly, while five years ago the share was only 35 per cent. The share of recycling or utilisation of waste material and, in particular, burning in treatment of municipal waste has clearly increased over recent years. However, recycling has not been on a clear growth path, at least not to the extent one could predict based on household behaviour. The share of recycling in waste treatment increased by two percentage points from the previous year. The amount of burnt (energy recovery) municipal waste has tripled in five years but last year the share of burning in treatment only increased by good two percentage points.
Last year, the total volume of municipal waste rose to the level seen three years ago and was 2.7 million tonnes. The volume of municipal waste decreased during 2009-2010, which may have been due to the dip in the national economy at the time.
Source: Statistics Finland - Waste statistics
Inquiries: Juha Espo 09 1734 3463, Simo Vahvelainen 09 1734 3457, ymparisto.energia@stat.fi
Director in charge: Leena Storgårds
Publication in pdf-format (216.1 kB)
Tables in databases

Pick the data you need into tables, view the data as graphs, or download the data for your use.

Appendix tables
---
Updated 20.11.2012
Official Statistics of Finland (OSF): Waste statistics [e-publication].
ISSN=2323-5314. 2011. Helsinki: Statistics Finland [referred: 7.6.2023].
Access method: http://www.stat.fi/til/jate/2011/jate_2011_2012-11-20_tie_001_en.html