Published: 1 December 2015
As much as one-half of municipal waste is burned
Nearly exactly 50 per cent of municipal waste generated in Finland in 2014 was burned. The share of burning has risen very fast, because ten years ago just 12 per cent of waste was burned. Disposal at landfill sites has, in turn, fallen more or less at the same rate, or in practice, all municipal solid waste delivered for burning reduces the waste in landfill sites. Just under one-fifth of the total volume of waste were disposed at landfill sites. Municipal waste as an additional resource in energy production is running low.
Municipal waste by treatment method in 2002 to 2014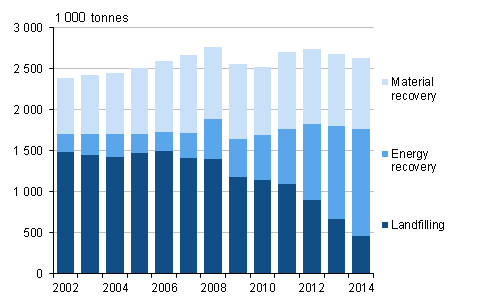 In 2014, a total of 2.6 million tonnes of municipal waste were generated. The volume has remained fairly even throughout the early part of the millennium. Municipal waste is generated in households and service sectors, the biggest items being paper and paperboard waste, biodegradable kitchen and canteen waste, and packages and scrap. However, the volume of unsorted, burning mixed waste is large and growing as combustion treatment is becoming more common.
The volume of municipal waste delivered to energy recovery was last year 1.3 million tonnes, 460,000 tonnes were landfilled. The remainder, or 856,000 tonnes were recycled or recovered as a material, the biggest items of which were paper, biodegradable kitchen waste, and metal and electrical equipment scrap. The recycling volumes have long remained more or less of equal size, however, the trend appears to be slightly rising. The recovery rate of municipal waste, that is, burning and recycling together reached a record high, as much as 83 per cent.
Source: Waste statistics 2014, Statistics Finland
Inquiries: Juha Espo 029 551 3463, Simo Vahvelainen 029 551 3457, ymparisto.energia@stat.fi
Director in charge: Ville Vertanen
Publication in pdf-format (195.9 kB)
Tables in databases

Pick the data you need into tables, view the data as graphs, or download the data for your use.

Appendix tables
---
Updated 01.12.2015
Official Statistics of Finland (OSF): Waste statistics [e-publication].
ISSN=2323-5314. 2014. Helsinki: Statistics Finland [referred: 30.5.2023].
Access method: http://www.stat.fi/til/jate/2014/jate_2014_2015-12-01_tie_001_en.html