Published: 26 May 2016
Fire is not the solution for hazardous waste
According to the permission and supervision registers of environmental authorities, 1.9 million tonnes of hazardous waste was generated in Finland in 2014. The volumes of hazardous waste have fluctuated much on the annual level according to the prevailing interpretations. In Finland, waste is either hazardous or not, no intermediate degrees of hazardousness are known. Statistics Finland has published data on the volumes of hazardous waste as part of the national waste statistics since 1987.
Amounts of waste by sector in 2014, 1,000 tonnes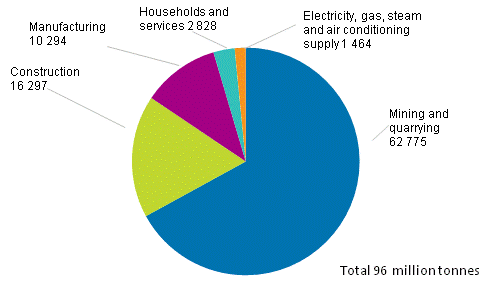 The lively discussion of past decades on hazardous waste management has ceased, but there is still hazardous waste. The disposal capacity of hazardous waste is still in no way sufficient for plant-type disposal. The most common disposal methods are landfill sites or storage, such as reservoirs, under supervised conditions. As much as two-thirds of hazardous waste are treated in these ways. One-tenth of hazardous waste, or nearly 200,000 tonnes, are burnt yearly in the generation of electricity and heat. Hazardous waste is utilised as material less than burnt. There are, however, several ways of disposal, such as biological treatment.
The biggest items of hazardous waste are generated in mining, manufacture of basic metals, manufacture of chemicals and publishing houses and energy supply and as contaminated soil in construction. Hazardous waste is generated as small items in households and service industries, such as electronics, medicines and waste oils. The volume of hazardous waste in the statistics has quadrupled from the 1990s to today. Waste is interpreted as being hazardous more widely and easily than before. The group of waste including waste oils, acids and heavy metals has come to include hazardous mineral waste and sludge and various types of other process waste.
Source: Waste statistics 2014, Statistics Finland
Inquiries: Juha Espo 029 551 3463, Simo Vahvelainen 029 551 3457, ymparisto.energia@stat.fi
Director in charge: Ville Vertanen
Publication in pdf-format (220.2 kB)
Tables in databases

Pick the data you need into tables, view the data as graphs, or download the data for your use.

Appendix tables
---
Updated 26.5.2016
Official Statistics of Finland (OSF): Waste statistics [e-publication].
ISSN=2323-5314. 2014. Helsinki: Statistics Finland [referred: 2.6.2023].
Access method: http://www.stat.fi/til/jate/2014/jate_2014_2016-05-26_tie_001_en.html