Published: 8 December 2009
Domestic banks' turnover and net income from financial operations fell in the third quarter
In the third quarter of 2009, domestic banks' net income from financial operations amounted to EUR 857 million. Their net income from financial operations contracted by 15 per cent from the third quarter of 2008. The fall in their net income from financial operations started in the first quarter of 2009. The contraction is explained by diminished difference in interests on the loan and deposit stocks.
Commission income, which began to show growth in the second quarter, continued to rise. In the third quarter, commission income increased by 16 per cent from twelve months back. The growth of the commission income came especially from increased commission income from credit granting, payment transactions and provision of guarantees.
Recorded impairment losses on loans and other commitments amounted to EUR 233 million in the third quarter. The item includes realised impairment losses and provisions for future impairment losses. Impairment losses have been growing fast since early 2008.
The net operating profit of domestic banks amounted to EUR 421 million in the third quarter, which is 22 per cent lower than one year earlier.
The aggregate value of the balance sheets of domestic banks was EUR 336 billion at the end of September. The balance sheets grew by 11 per cent year-on-year. The share of own equity in the total of the balance sheets was 5.9 per cent.
Domestic banks' turnover and net income from financial operations fell in the third quarter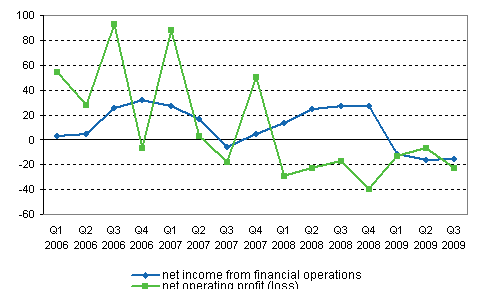 Source: Statistics Finland
Inquiries: Marja Keltanen (09) 1734 3328, Saara Roine (09) 1734 3325
Director in charge: Ari Tyrkkö
---
Updated 08.12.2009
Official Statistics of Finland (OSF): Financial statement statistics on credit institutions [e-publication].
ISSN=2342-5180. 3rd quarter 2009. Helsinki: Statistics Finland [referred: 15.8.2022].
Access method: http://www.stat.fi/til/llai/2009/03/llai_2009_03_2009-12-08_tie_001_en.html