Published: 8 December 2008
Gross domestic product grew by 1.3 per cent in the third quarter
According to preliminary data of Statistics Finland, in the third quarter of 2008 the volume of Finland's GDP increased by 0.1 per cent form the previous quarter. Compared to the third quarter of 2007, GDP grew by 1.3 per cent. The third quarter of 2008 had one more working day than twelve months previously.
Revisions put the growth in GDP in the second quarter at 2.5 per cent from twelve months back and at 0.5 per cent from the previous quarter.
Gross domestic product by quarter at reference year 2000 prices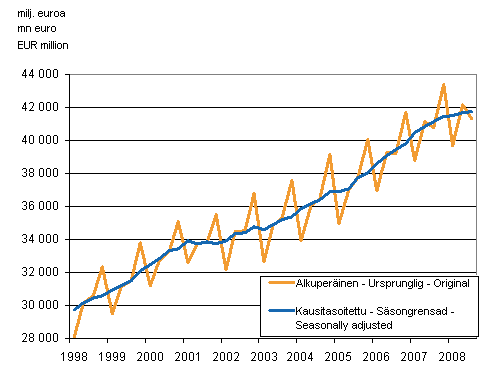 The volume of exports contracted by 2.7 per cent and that of imports by 0.2 per cent year-on-year. The volume of private consumption grew by 1.8 per cent and investments increased by 4.2 per cent in the third quarter.
Volume refers to value data adjusted for price changes. Volumes at reference year 2000 prices are expressed relative to the 2000 level in euros.
Source: National Accounts 2008, 3rd quarter. Statistics Finland
Inquiries: Pasi Koikkalainen (09) 1734 3332, Samu Hakala (09) 1734 3756
Director in charge: Ari Tyrkkö
Publication in pdf-format (184.8 kB)
---
Updated 8.12.2008
Official Statistics of Finland (OSF): Quarterly national accounts [e-publication].
ISSN=1797-9765. 3rd quarter 2008. Helsinki: Statistics Finland [referred: 1.8.2021].
Access method: http://www.stat.fi/til/ntp/2008/03/ntp_2008_03_2008-12-08_tie_001_en.html