Published: 13 June 2014
Turnover in service industries grew by 2.5 per cent year-on-year in January to March
According to Statistics Finland, turnover generated by service industries grew by 2.5 per cent in the first quarter of 2014 when compared with the respective period one year previously. One year previously, turnover in service industries grew by 0.4 per cent in the corresponding period. Services are here examined exclusive of trade.
Three months' year-on-year change in turnover in services (TOL 2008)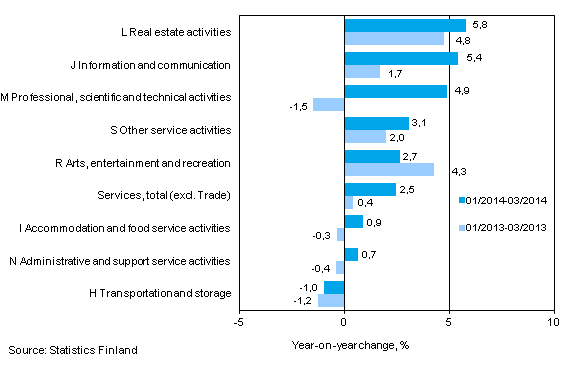 Turnover increased in all main service industries apart from transportation and storage, where the decrease from the January to March period of the previous year amounted to 1.0 per cent.

Turnover grew fastest in real estate activities, where growth amounted to 5.8 per cent compared to the corresponding period of the year before. In information and communication enterprises, turnover grew by 5.4 per cent from the first quarter in 2013. Growth was weakest in administrative and support service activities, where turnover went up by just 0.7 per cent, as well as in accommodation and food service activities, whose turnover increased by 0.9 per cent from the corresponding period of the previous year.
Source: Turnover of service industries, Statistics Finland
Inquiries: Anna Muurainen 029 551 2670, Suvi Kiema 029 551 2738, palvelut.suhdanne@stat.fi
Director in charge: Hannele Orjala
Publication in pdf-format (253.5 kB)
Tables in databases

Appendix tables
---
Updated 13.6.2014
Official Statistics of Finland (OSF): Turnover of service industries [e-publication].
ISSN=1799-0998. March 2014. Helsinki: Statistics Finland [referred: 25.9.2021].
Access method: http://www.stat.fi/til/plv/2014/03/plv_2014_03_2014-06-13_tie_001_en.html