Published: 13 February 2015
Turnover in service industries grew by 3.9 per cent year-on-year in September to November
According to Statistics Finland, turnover in service industries grew by 3.9 per cent in September to November from the corresponding time period of the year before. One year ago in the same time period, the turnover change was close to zero. Services are here examined exclusive of trade.
Three months' year-on-year change in turnover in services (TOL 2008)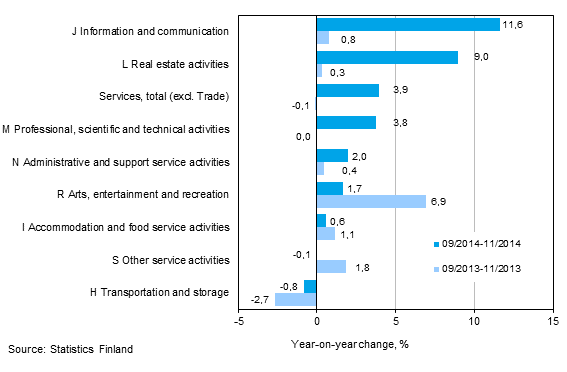 Turnover growth in main service industries was fastest in information and communication activities where turnover increased by 11.6 per cent in September to November. The growth in the industry is still based on good turnover development in computer programming and information service enterprises. In the past three months, the turnover of computer programming enterprises grew by 27.9 per cent and that of information service enterprises by 21.7 per cent. Telecommunications have, in turn, restrained the growth, as the turnover of these enterprises contracted by three per cent in September to November.
The turnover development of the most significant main service industry, transport and storage, has continued as weak. The turnover of the industry decreased by 0.8 per cent in September to November year-on-year. Within the industry, turnover declined most in water traffic, by 2.6 per cent from one year ago. The turnover of land transport, as well as enterprises in warehousing and support activities for transportation decreased in the latest review period.
Source: Turnover of service industries, Statistics Finland
Inquiries: Aki Niskanen 029 551 2657, palvelut.suhdanne@stat.fi
Director in charge: Hannele Orjala
Publication in pdf-format (241.4 kB)
Tables in databases

Appendix tables
---
Updated 13.2.2015
Official Statistics of Finland (OSF): Turnover of service industries [e-publication].
ISSN=1799-0998. November 2014. Helsinki: Statistics Finland [referred: 25.9.2021].
Access method: http://www.stat.fi/til/plv/2014/11/plv_2014_11_2015-02-13_tie_001_en.html