Published: 31 March 2017
Rising stock market prices increased households' financial assets in the last quarter of 2016
Households' financial assets grew by EUR 6.2 billion during the fourth quarter of 2016 rising to EUR 294.5 billion. In turn, households' debts increased by EUR 0.8 billion to EUR 152.4 billion. As a result of these changes, households' net financial assets increased by EUR 5.4 billion to EUR 142.1 billion. Net financial assets refer to the difference between financial assets and liabilities. These data derive from the financial accounts compiled by Statistics Finland.
Households' financial assets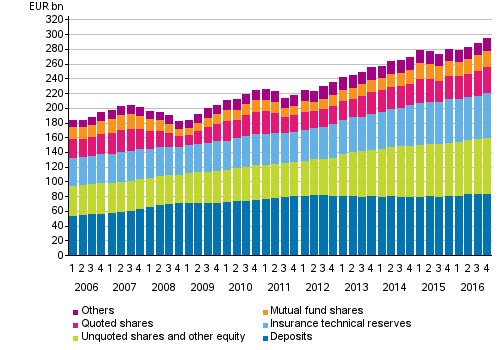 During the fourth quarter of 2016, households increased their net investments in financial assets by EUR 1.6 billion. Money flowed primarily into deposits. The net change was low in other financial assets but the development has continued similar already for three successive quarters. Again more investments were made in mutual fund shares than were withdrawn and net investments in quoted shares and debt securities continued to decrease.
A majority of the growth in households' financial assets was the result of rising stock market prices. Holding gains amounted to EUR 4.6 billion of which 2.2 billion from quoted shares. The values of investment funds also increased.
Households' loan debts grew by EUR 0.8 billion during the fourth quarter of 2016 rising to EUR 142.6 billion. More than one-half of the change was caused by a growth in housing companies' loans attributable to households. However, households' indebtedness ratio declined by 0.2 percentage points from the previous quarter to 126.9 per cent, as households' disposable income grew as well. Households' indebtedness ratio is calculated as the ratio of their loan debts at the end of a quarter to their total disposable income during the preceding four quarters.
Non-financial corporations' debt financing declined by EUR 5.0 billion during the last quarter of 2016 falling to EUR 222.8 billion. The loan debts of non-financial corporations decreased by EUR 4.9 billion. The new level is EUR 185.9 billion. The number of short-term debt securities issued by non-financial corporations diminished and their share in financing continued their long lasting decline. The total amount of financing covered with debt securities dropped by EUR 0.1 billion to EUR 36.9 billion. Debt financing refers to the total of loan debts and financing in the form of debt securities.
Source: Financial accounts, Statistics Finland
Inquiries: Henna Laasonen 029 551 3303, Peter Parkkonen 029 551 2571, rahoitus.tilinpito@stat.fi
Director in charge: Ville Vertanen
Publication in pdf-format (254.5 kB)
Tables in databases

Pick the data you need into tables, view the data as graphs, or download the data for your use.

Appendix tables
---
Updated 31.3.2017
Official Statistics of Finland (OSF): Financial accounts [e-publication].
ISSN=1458-8145. 4th quarter 2016. Helsinki: Statistics Finland [referred: 9.2.2023].
Access method: http://www.stat.fi/til/rtp/2016/04/rtp_2016_04_2017-03-31_tie_001_en.html