Published: 15 June 2009
Turnover in manufacturing contracted by 24 per cent in January to March form the year before
According to Statistics Finland, turnover in manufacturing in the January to March period was 24.0 per cent lower than in the corresponding period of the year before. Domestic sales contracted by 20.9 per cent and export turnover by 28.3 per cent from one year ago.
In January to March, turnover grew in electricity, gas, steam and air conditioning supply (13.8%) and in the food industry (0.2%). Turnover contracted most in the chemical industry where it was 29.8 per cent lower than in the respective time period of the year before. Apart from electricity, gas, steam and air conditioning supply and the food industry, turnover in all the most important industries fell by double-digit percentages.
In nearly all of the industries published turnover either grew more or contracted less in March than during the first two months of the year when compared with the respective months of the year before. The seasonally-adjusted monthly change in the turnover in manufacturing was also positive when comparing January to February and February to March.
Annual change in turnover in manufacturing and in selected manufacturing industries during 1/2009-03/2009, % (TOL 2008)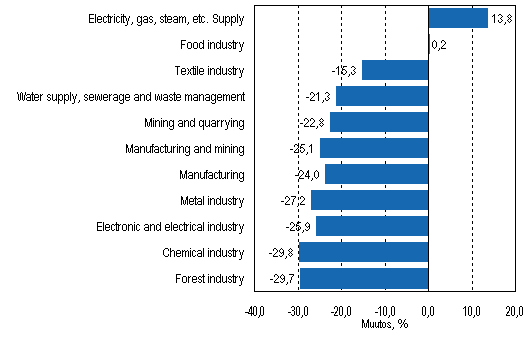 The index of turnover in industry describes enterprises whose main industry is manufacturing. The calculation of the indices is based on the Tax Administration's value added tax data which are supplemented with data obtained with Statistics Finland's sales inquiry. The monthly turnovers of manufacturing enterprises can vary considerably, especially in the metal industries. The variation is mainly due to invoicing practices. The final invoice for major machinery deliveries and projects may be recorded in the sales of one month, even if the delivery had required the work of several months or years.
The standard industrial classification TOL 2008 and base year 2005=100 were introduced in these statistics starting from data concerning January 2009. Further information about the TOL 2008 classification is available in the TOL 2008 section on Statistics Finland's website. Further information about the transition of the index of turnover in industry to Standard Industrial Classification TOL 2008 is available under Revisions in these statistics.
Source: Index of turnover in industry, March 2009. Statistics Finland
Inquiries: Mr Matti Paavonen +358 9 1734 3331, Ms Soile Väisänen +358 9 1734 2232,volyymi.indeksi@stat.fi
Director in charge: Ms Hannele Orjala
Tables in databases

Pick the data you need into tables, view the data as graphs, or download the data for your use.
---
Last updated 15.6.2009
Official Statistics of Finland (OSF): Teollisuuden liikevaihtokuvaaja [e-publication].
ISSN=1798-5943. maaliskuu 2009. Helsinki: Tilastokeskus [referred: 10.12.2023].
Access method: http://www.stat.fi/til/tlv/2009/03/tlv_2009_03_2009-06-15_tie_001_en.html