Published: 3 December 2010
As many people already employed in human health and social work as in manufacturing
According to Statistics Finland's Labour Force Survey, the number of persons employed in human health and social work continued to grow in 2009 whereas the number employed in manufacturing, trade and construction decreased in the economic downturn. In 2009, human health and social work already provided employment for as many people as manufacturing. The effects of the downturn were most strongly felt in manufacturing where the number employed fell to the level of the recession of the early 1990s. As many people were employed in trade in 2009 as in 2006 and the number employed in construction was on level with 2007.
Number of persons employed in four largest industries (TOL 2008) in 2005–2009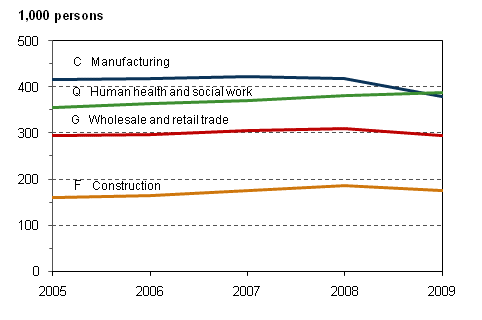 The total number of persons employed in all industries in 2009 was 2,457,000, which was 57,000 persons more than in 2005. The number fell by 74,000 persons from the previous year.
The way of publishing annual Labour Force Survey data has been revised. Annual data for 2009 have been published in the course of the year on the web pages of the statistics at www.stat.fi/tyovoimatutkimus in three annual reviews focusing on different themes. The reviews have been gathered together into the annual publication Labour Force Survey, Time series data 2000–2009, which is published on the home page of the statistics. The publication additionally contains time series tables from the 2000–2009 and 2005–2009 periods and tables concerning the year 2009. The annual publication is also produced as a hard copy.
Source: Labour force survey 2009. Statistics Finland
Inquiries: Heidi Melasniemi-Uutela (09) 1734 2523, Olga Kambur (09) 1734 3565, tyovoimatutkimus@stat.fi
Director in charge: Riitta Harala
Publication in pdf-format (1.1 MB)
Tables in databases

Pick the data you need into tables, view the data as graphs, or download the data for your use.

Appendix tables
---
Updated 3.12.2010
Official Statistics of Finland (OSF): Labour force survey [e-publication].
ISSN=1798-7857. 17 2009. Helsinki: Statistics Finland [referred: 24.9.2023].
Access method: http://www.stat.fi/til/tyti/2009/17/tyti_2009_17_2010-12-03_tie_001_en.html