Published: 7 June 2011
Temporary employment relationships increased in 2010
According to Statistics Finland's Labour Force Survey, the average number of employed employees in 2010 was 2,120,000, which is almost the same as in 2009. Of them, 1,789,000 had permanent employment contracts while 329,000 had temporary employment contracts. The number of persons in permanent employment relationships was 22,000 lower and that of persons in temporary employment relationships 19,000 higher than in 2009. These data derive from Statistics Finland's yearly review Employment relationships and working hours in 2010.
Employees' employment relationships in 1998-2010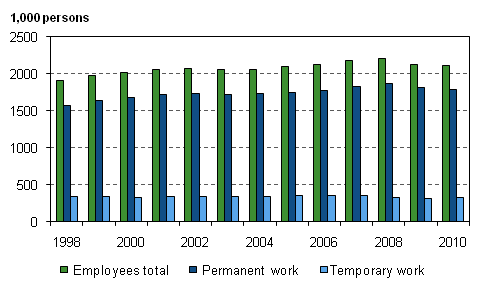 In the first quarter of 2010, employees' permanent employment relationships decreased by 48,000, and in the second and third quarters by 20,000 from the respective quarters of 2009. In the last quarter of 2010, the number of employees with permanent employment contracts was the same as twelve months previously.
Employees' temporary employment relationships , in turn, decreased slightly in the first quarter of 2010. In the second quarter, the number of employees with temporary contracts turned towards growth, which then accelerated towards the end of the year. In the last quarter of 2010, the number of temporary employment contracts was 31,000 higher than at the same time twelve months earlier.
In 2010, the average shares of those with temporary employment contracts were 16 per cent among all employees, 12 per cent among men and 18 per cent among women. For approximately two-thirds, the reason for working under a temporary contract was lack of permanent work.
In 2010, new employment contracts of under one year's duration numbered 393,000. The number was nearly the same as in 2009. Fifty-six per cent of the new employment contracts were temporary. Their share was four percentage points higher than in 2009.
Links
The first yearly Labour Force Survey review, Employment and unemployment in 2010 , also contains information about changes in employment in 2010.
Key monthly and quarterly Labour Force Survey data for 2011 are available on the web pages of the Survey at : http://tilastokeskus.fi/til/tyti/tau_en.html .
Source: Labour force survey 2010. Statistics Finland
Inquiries: Heidi Melasniemi-Uutela (09) 1734 2523, Olga Kambur (09) 1734 3565, tyovoimatutkimus@stat.fi
Director in charge: Riitta Harala
Publication in pdf-format (548.4 kB)
Tables in databases

Pick the data you need into tables, view the data as graphs, or download the data for your use.

Appendix tables
---
Updated 7.6.2011
Official Statistics of Finland (OSF): Labour force survey [e-publication].
ISSN=1798-7857. 15 2010. Helsinki: Statistics Finland [referred: 22.9.2023].
Access method: http://www.stat.fi/til/tyti/2010/15/tyti_2010_15_2011-06-07_tie_001_en.html