Published: 6 November 2012
Youth unemployment rate 20 per cent in 2011
According to Statistics Finland's Labour Force Survey, from 1995 onwards the number of employed persons went up almost continuously up to the year 2008. Towards the end of 2008, employment started to decline and in 2011, the annual average number of employed persons was 57,000 lower than in 2008. Employment situation improved among young people in 2011 but is still clearly worse than prior to the downturn that started in 2008.
The rate of unemployment among young people aged 15 to 24 was 20.1 per cent in 2011, having been 21.4 per cent in the year before. During the past two decades, the youth unemployment rate has been under 20 per cent only a couple of times. In recent years, the unemployment rate has been clearly lower among young women than among young men.
Employment rate among young people was 39.1 per cent in 2011, and had gone up by 1.3 percentage points from the previous year. Since the year 2000, young women's employment rate has been slightly higher than young men's.
Unemployment rate among young people aged 15 to 24 by sex in 1989–2011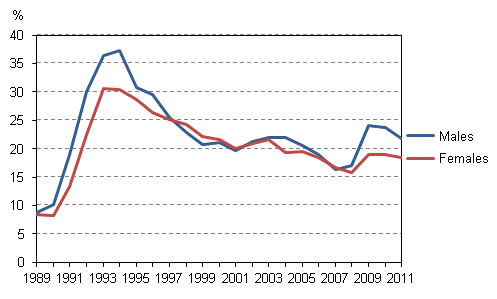 Link: Concepts and definitions used in the Finnish Labour Force Survey
Source: Labour force survey 2011. Statistics Finland
Inquiries: Veli Rajaniemi 09 1734 3434, Heidi Melasniemi-Uutela 09 1734 2523, Tarja Nieminen 09 1734 3561, tyovoimatutkimus@stat.fi
Director in charge: Riitta Harala
Publication in pdf-format (1.1 MB)
Tables in databases

Pick the data you need into tables, view the data as graphs, or download the data for your use.

Appendix tables
---
Updated 6.11.2012
Official Statistics of Finland (OSF): Labour force survey [e-publication].
ISSN=1798-7857. Time series data 2002-2011 2011. Helsinki: Statistics Finland [referred: 28.9.2023].
Access method: http://www.stat.fi/til/tyti/2011/15/tyti_2011_15_2012-11-06_tie_001_en.html