Published: 2 November 2021
Employment rate rose among mothers of small children
In 2020, the employment rate went down slightly for those aged 20 to 59 compared with 2018. Men's employment rate fell and women's employment rate remained almost unchanged. The employment rate among mothers of families with underage children rose from 77.2 to 79.2 per cent. The employment rate went up most among those mothers whose youngest child was aged under three. The employment rate fell most among men without children aged under 18. These data derive from Statistics Finland's table release Labour Force Survey 2020, families and work.
Employment rates for mothers aged 20 to 59 year old by age of their youngest child in 2018 and 2020, %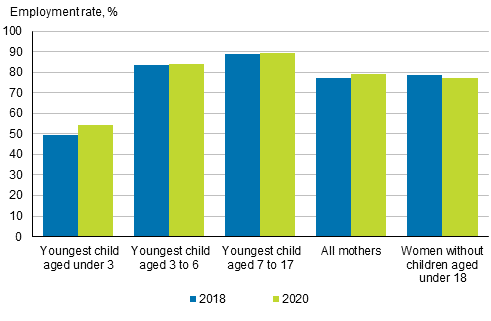 Statistics Finland publishes data on the household module of the Labour Force Survey in the StatFin database service. The labour market position can be examined on the basis of household data according to the family situation. Corresponding data have previously been published in connection with the Families and work reviews.
Tables 139q and 139r contain time series for 2009 to 2020 according to the estimation method used until the end of 2020.
Links
Labour Force Survey tables in databases: http://tilastokeskus.fi/til/tyti/tau_en.html .
Source: Labour Force Survey 2020. Statistics Finland
Inquiries: Tarja Nieminen 029 551 3561, tyovoimatutkimus@stat.fi
Head of Department in charge: Hannele Orjala
Publication in pdf-format (271.7 kB)
Tables in databases

Pick the data you need into tables, view the data as graphs, or download the data for your use.
---
Updated 2.11.2021
Official Statistics of Finland (OSF): Labour force survey [e-publication].
ISSN=1798-7857. Families and work 2020. Helsinki: Statistics Finland [referred: 24.9.2023].
Access method: http://www.stat.fi/til/tyti/2020/14/tyti_2020_14_2021-11-02_tie_001_en.html