3. Changes in prices of dwellings and in earnings level
There has been strong variation in the development of dwelling prices over four decades. During the overheating of the housing market, prices rose by over 40 per cent year-on-year in the last quarter of 1988. During the recession of the early 1990s, prices fell by as much as 20 per cent from the year before. With the exception of the minor economic downturn in 2001, dwelling prices rose continuously from 1996 up to the middle of the year 2008. The outbreak of the international financial crisis in autumn 2008 stagnated the housing market and prices fell from the third quarter of 2008 until the first quarter of 2009. From the middle of 2009 onwards, prices of dwellings have returned to their growth track.
Over this period changes in wages and salaries have been more moderate than changes in the housing market, except for the mid-1970s, when the rise in earnings level caused by the great inflation was over 20 per cent per year. Over the 2000s wages and salaries have gone up yearly by an average of four per cent. The average year-on-year rise in prices of dwellings has been one percentage point faster, which has weakened the purchasing power of wages and salaries in the housing market.
Figure 3. Year-on-year changes in prices of dwellings and in wages and salaries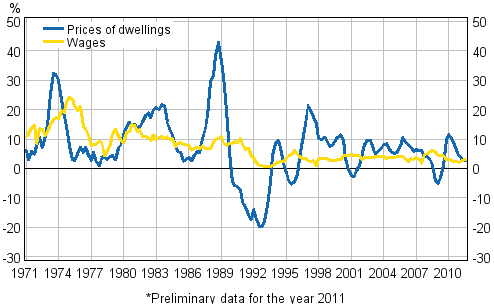 Source: Prices of Dwellings, Statistics Finland
Inquiries: Petri Kettunen (09) 1734 3558, Tomi Martikainen (09) 1734 3632, asuminen.tilasto@stat.fi
Director in charge: Kari Molnar
---
Updated 28.10.2011
Official Statistics of Finland (OSF): Prices of dwellings in housing companies [e-publication].
ISSN=2323-8801. September 2011, 3. Changes in prices of dwellings and in earnings level . Helsinki: Statistics Finland [referred: 18.5.2021].
Access method: http://www.stat.fi/til/ashi/2011/09/ashi_2011_09_2011-10-28_kat_003_en.html