7. Men living alone has become more common in almost all age groups
At the end of 2018, a total of 22 per cent of Finland's population were living alone. A household-dwelling unit of two persons is the most common mode of living, accounting for one-third of the population. The share of four-person household-dwelling units is 17 per cent. (Figure 13)
Figure 13. Household-dwelling unit population by size in 1990 to 2018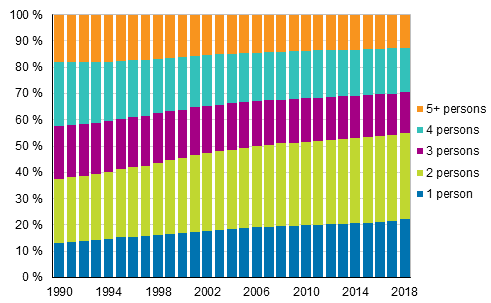 There are differences between genders in the prevalence and timing of living alone. In absolute numbers, the biggest groups of those living alone are women aged 71 and men aged 26. In all, women live by themselves more often than men do. Of all women aged 18 or over, 28 per cent live alone and 26 per cent of men.
In the life cycle of women, living alone varies more than among men. More than every fourth woman aged 20 to 25 live alone, but after turning 25 the probability of living alone falls for women. For men, living alone during early adulthood usually continues longer than for women, because over one-quarter of those aged 21 to 33 live alone. Thus, the probability of men living alone starts to fall considerably later than for women, that is, only when they are over thirty years old. However, the share of men living alone does not fall with age to a level as low as that of women living alone. The share of men living alone is partly explained by divorces. In a divorce, the children usually stay with the mother and the father lives alone, at least temporarily. For women, living alone is most probable at old age: As many as 52 per cent of those aged 80 lived alone. For men, the probability of living alone is biggest at old age and on the other hand, as young adults. Women living alone is rarest at the age of 41 to 42, when every tenth woman lives alone. In turn, living alone is rarest for men at the age of 18 to 19.
After 1990, men living alone has become more common in all age groups, particularly among men at working age and those aged over 90. For women living alone has become more general especially for those aged under 25 and over 85. Living alone is now rarer for women aged 65 to 80 than in 1990.
Figure 14. Women and men living alone as a proportion of age group in 1990 and 2018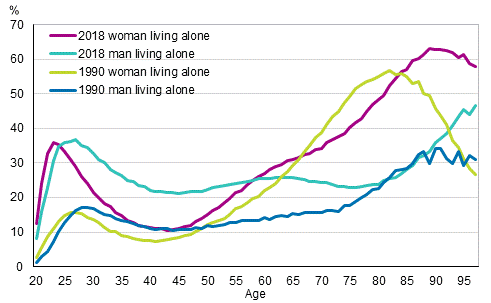 Source: Population and Justice Statistics, Statistics Finland
Inquiries: Marjut Pietilšinen 029 551 2798, Joonas Toivola 029 551 3355, Timo Nikander 029 551 3250, info@stat.fi
Director in charge: Jari Tarkoma
---
Updated 31.01.2020
Official Statistics of Finland (OSF): Families [e-publication].
ISSN=1798-3231. annual review 2018, 7. Men living alone has become more common in almost all age groups . Helsinki: Statistics Finland [referred: 25.9.2023].
Access method: http://www.stat.fi/til/perh/2018/02/perh_2018_02_2020-01-31_kat_007_en.html