Published: 30 June 2015
Holding gains increased households' financial assets in the first quarter of 2015
In the first quarter of 2015, households' financial assets went up by EUR 9.6 billion to EUR 271.1 billion. The growth in households' financial assets was mainly due to the rising stock market prices. As the market values of quoted shares and mutual fund shares rose, households received EUR 8.5 billion in holding gains. These data derive from Statistics Finland's financial accounts statistics.
Households' financial assets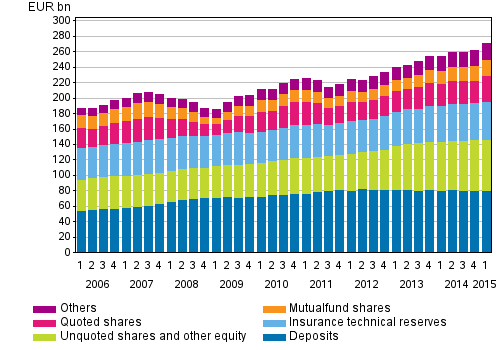 During the first quarter of 2015, households' net investments in financial assets totalled EUR 1.3 billion. Households withdrew assets from deposits, debt securities and quoted shares. The popularity of mutual funds continued, however, and households' net investments in mutual fund shares amounted to EUR 0.8 billion. In addition, households invested in life insurance. The shift within deposits from fixed-term deposits to cash deposits continued.
Households' loan debts increased by EUR 0.7 billion to EUR 133.2 billion at the end of March. Households' disposable income also increased. As a result of these changes, households' indebtedness ratio rose to 122.6 per cent. The indebtedness ratio went up by 0.1 percentage points from the previous quarter. Households' indebtedness ratio is calculated as the ratio of their loan debts at the end of a quarter to their total disposable income during the preceding four quarters.
At the end of the first quarter, households had a total of EUR 271.1 billion in financial assets and EUR 142.5 billion in debts. During the quarter, financial assets grew by EUR 9.6 billion and debts by EUR 0.7 billion. At the end of the quarter, households' net financial assets rose to EUR 128.6 billion.
Non-financial corporations' debt financing grew by EUR 7.9 billion in the first quarter, as non-financial corporations both raised loans and issued debt securities. Financing was mostly received from abroad. Non-financial corporations had EUR 177.0 billion in loan debt and EUR 35.8 billion debt in the form of debt securities. Debt financing refers to the total of loan debts and financing in the form of debt securities.
Source: Financial accounts, Statistics Finland
Inquiries: Saara Roine 029 551 2922, rahoitus.tilinpito@stat.fi
Deputy director in charge: Mari Ylä-Jarkko
Publication in pdf-format (246.4 kB)
---
Updated 30.6.2015
Official Statistics of Finland (OSF): Financial accounts [e-publication].
ISSN=1458-8145. 1st quarter 2015. Helsinki: Statistics Finland [referred: 9.8.2022].
Access method: http://www.stat.fi/til/rtp/2015/01/rtp_2015_01_2015-06-30_tie_001_en.html