3. Taking a boat abroad
Altogether 3,662,000 trips were made abroad on board boats in 2013, which was one per cent more than in 2012. Of all leisure trips abroad, 47 per cent were made on boats. Of the trips made by boat, 98 per cent were made to Estonia or Sweden. The remainder of the boat trips were mainly made to Russia.
In 2013, Finns made 1,799,000 trips with overnight stay in the destination country where a boat was used as the means of travel. A total of 1,266,000 overnight cruises and 597,000 day cruises were made. The number of overnight cruises remained unchanged but the number of day cruises increased by 31 per cent from the year before.
Of the leisure trips made to Estonia, 99 per cent were made by boat. Of the leisure trips made to Sweden, 73 per cent were made by boat, ten per cent by air and 16 per cent by passenger car.
Finns went on overnight cruises most in November and on day cruises in August. When one or several nights were spent in the destination country the trip was usually made in July.
Number of cruises by month 2013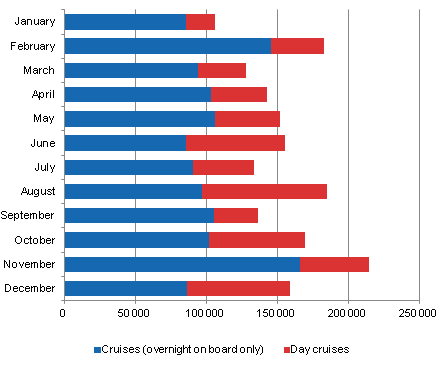 Source: Finnish Travel, Statistics Finland
Inquiries: Mervi Härkönen 09 1734 3254 (9.6.2014 -> 029 551 3254), Taru Tamminen 09 1734 2243 (9.6.2014 -> 029 551 2243), liikenne.matkailu@stat.fi
Director in charge: Hannele Orjala
---
Updated 10.4.2014
Official Statistics of Finland (OSF): Finnish Travel [e-publication].
ISSN=1798-9027. 2013, 3. Taking a boat abroad . Helsinki: Statistics Finland [referred: 27.3.2023].
Access method: http://www.stat.fi/til/smat/2013/smat_2013_2014-04-10_kat_003_en.html