Published: 20 June 2007
Number of persons employed in service industries went up by a total of 64,000 persons during 2005 and 2006
The improvement in employment that started in the latter half of 2004 continued in 2006. Over the past two years, numbers of persons employed increased in all main industries apart from agriculture and forestry. The number of persons employed in service industries went up by a total of 64,000 during 2005 and 2006. In construction the number of persons employed grew by 14,000 and in manufacturing by 6,000. These data derive from Statistics Finland's publication Labour Force Statistics 2006.
Over 2005 and 2006, employment increased most in the industries of technical and other business activities, and social work activities, in both of which the number employed went up by 20,000 persons. Among manufacturing industries, the number employed increased by approximately 17,000 persons in the metal etc. industries. Manufacturing belonging to this group produces, among other things, metal products, equipment and machinery, electronic and electrical equipment and transport equipment.
Employed, changes from the preceding year by industry in 2005 and 2006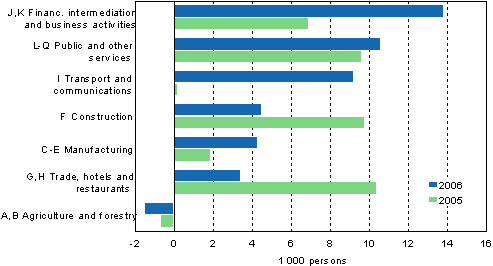 Source: Labour Force Statistics 2006. Statistics Finland
Inquiries: Ms Heidi Melasniemi-Uutela (09) 1734 2523, Ms Olga Kambur (09) 1734 3565, tyovoimatutkimus@stat.fi
Director in charge: Ms Riitta Harala
Tables in databases

Pick the data you need into tables, view the data as graphs, or download the data for your use.
---
Last updated 20.6.2007
Official Statistics of Finland (OSF): Labour force survey [e-publication].
ISSN=1798-7857. 2006. Helsinki: Statistics Finland [referred: 23.9.2023].
Access method: http://www.stat.fi/til/tyti/2006/tyti_2006_2007-06-20_tie_001_en.html