7. Participation in other training forms
In this survey, other personnel training refers to the following planned forms of training: 1) Training, instruction or practical experience periods, 2) Learning periods through job rotation, employee exchange, training secondments or study visits, 3) Participation in learning or quality circles, 4) Self-directed learning (incl. distance learning during working hours, and 5) Attendance at conferences, workshops, trade fairs or lectures.
Large enterprise offered more of this type of other personnel training for their employees than small enterprises. Approximately 85 per cent of the enterprises with at least 500 employees offered other forms of training whereas good one-half of the enterprises with fewer than 50 employees offered them.
The relative proportion of employees having participated in the training was of almost equal magnitude in enterprises of different sizes, in other words it did not vary by the size of enterprise in the same way as the organisation of training did. The greatest proportions of employees participated in enterprises with at least 250 employees, of which good one-third took part in these other forms of personnel training.
Figure 11. Shares of enterprises having organised other forms of training and participants in it by size class of enterprise in 2005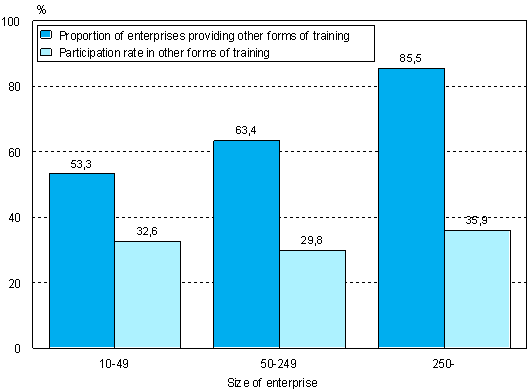 The organisation of self-directed learning diminished most from 1999 to 2005. Whereas nearly 40 per cent of enterprises organised opportunities for self studying for their personnel in 1999, six years later such opportunities were no longer offered by more than good 20 per cent of enterprises. The volumes of offered job rotation and secondment opportunities also diminished clearly. In 2005, only one enterprise in ten organised possibilities for this type of training while six years earlier they were offered by one enterprise in five.
Figure 12. Share of enterprises having organised other forms of training in 1999 and 2005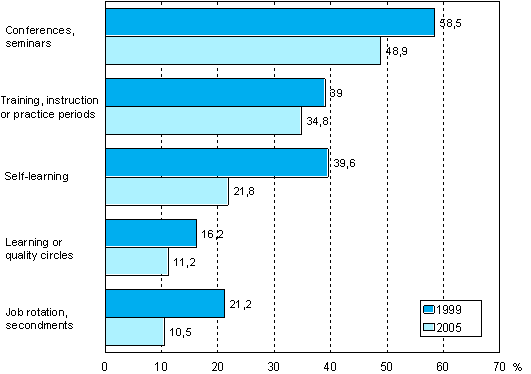 The rate of participation in some forms of training varied by the size of enterprise. Training, instruction or work practice periods were most frequently participated in by the personnel of enterprises with at least 250 employees of whom one in five had participated in such training. In relative terms, the rate of attending conferences, fairs, lectures or workshops was the highest among small enterprises.
Figure 13. Participation rate in other forms of training by size class of enterprise in 2005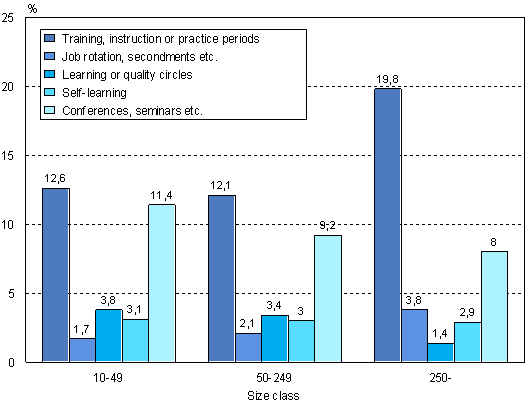 Source: CVTS, Continuing vocational training survey, Statistics Finland
Inquiries: Hannu Virtanen 09–1734 2514, Tarja Seppänen 09–1734 3220
Director in charge: Riitta Harala
---
Updated 8.5.2009
Official Statistics of Finland (OSF): CVTS, Continuing vocational training [e-publication].
ISSN=1798-0003. Participation in course-format training 2005, 7. Participation in other training forms . Helsinki: Statistics Finland [referred: 29.6.2022].
Access method: http://www.stat.fi/til/cvts/2005/02/cvts_2005_02_2009-05-08_kat_007_en.html