Published: 19 November 2010
The Greenhouse Gas Inventory for the year 2008 reviewed
An international expert team has reviewed the data on greenhouse gas emissions reported by Finland in spring 2010. During the review, the total amount of greenhouse gas emissions for the year 2008 was changed by 0.2 per cent. The revised emission amount corresponds to 70.3 million tonnes of carbon dioxide equivalent (Mt CO2 eq.), while the previous estimate was 70.1 million tonnes. Changes were made to emissions from agriculture and waste management. Emissions are still below the Kyoto Protocol target level of 71.0 million tonnes.

Development of greenhouse gas emissions by sector in Finland 1990-2008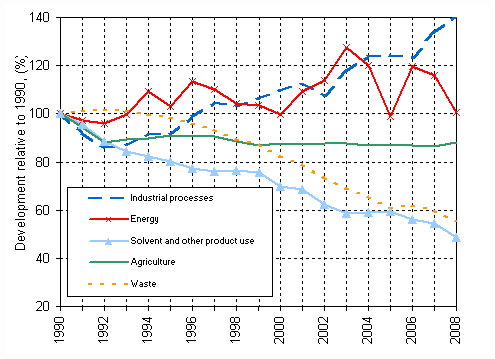 The parties to the Kyoto Protocol reported the greenhouse gas emissions for the first year (2008) of the first commitment period in spring 2010. The said emission inventories were reviewed by international expert teams. In the reviews changes were proposed to most countries' emissions.
In the Finnish Inventory the methane and nitrous oxide emissions in agriculture were revised as concerns the calculation methods for enteric fermentation and manure management of pigs and emissions from soil. In the waste sector an erroneous parameter in the calculation of landfill gas recovery was corrected.
In the Kyoto Protocol commitment period the parties must implement even the smallest changes put forward by the reviews. An alternative to this is a raised emission estimate calculated by the review team. Reviewers also pay attention to the functionality of the National Inventory System and the Emissions Register. No deficiencies were detected in these in Finland. Finland's inventory submission was also considered to meet the requirements, which is a precondition for the use of the Kyoto Protocol mechanisms (emissions trading and project-based mechanisms).
The international review reports will be published in early 2011 on the Internet pages of the UN Framework Convention on Climate Change: Inventory Review Reports 2010 .
Finland's greenhouse gas emissions without Land use, land-use change and forestry (LULUCF) sector (see table below). Emissions as amounts corresponding to million tonnes of CO2
Year
Energy
Industrial processes
Solvents and other product use
Agriculture
Waste
Total
Energy industries
Manufacturing industries and construction
Transport
Other energy
Industrial processes (excl. F-gases)
F-gases
1990
19,19
13,36
12,79
9,18
4,98
0,09
0,18
6,70
3,97
70,44
1991
18,96
12,83
12,43
8,85
4,61
0,07
0,17
6,31
4,01
68,25
1992
18,73
12,30
12,35
8,97
4,35
0,04
0,16
5,90
4,03
66,83
1993
21,47
12,41
11,88
8,55
4,42
0,03
0,15
5,99
4,02
68,93
1994
26,40
12,70
12,23
8,22
4,60
0,04
0,15
6,02
3,97
74,32
1995
24,12
12,14
12,02
7,78
4,54
0,10
0,14
6,10
3,91
70,87
1996
29,83
12,00
12,00
7,92
4,71
0,15
0,14
6,09
3,82
76,66
1997
27,44
12,27
12,59
7,87
4,92
0,24
0,14
6,08
3,72
75,26
1998
24,18
11,93
12,74
8,14
4,85
0,30
0,14
5,93
3,55
71,77
1999
23,66
11,92
12,94
7,85
4,92
0,40
0,14
5,82
3,48
71,12
2000
22,12
11,94
12,84
7,49
4,94
0,57
0,12
5,89
3,27
69,18
2001
27,51
11,48
12,96
7,72
4,92
0,72
0,12
5,85
3,14
74,44
2002
30,26
11,17
13,14
7,66
4,86
0,53
0,11
5,90
2,92
76,56
2003
37,21
11,53
13,35
7,60
5,17
0,72
0,10
5,90
2,75
84,33
2004
32,97
11,63
13,69
7,28
5,45
0,74
0,11
5,83
2,61
80,30
2005
21,92
11,33
13,72
6,98
5,30
0,91
0,11
5,83
2,41
68,51
2006
32,88
11,62
13,90
6,80
5,35
0,80
0,10
5,82
2,46
79,73
2007
30,82
11,44
14,26
6,64
5,74
0,95
0,10
5,81
2,38
78,14
2008
24,28
10,78
13,63
6,28
5,99
1,05
0,09
5,92
2,27
70,28
Emissions and removals of the LULUCF sector in Finland. Emissions and sinks as amounts corresponding to million tonnes of CO2 (emissions are positive figures, removals negative)
| | | | | | | |
| --- | --- | --- | --- | --- | --- | --- |
| Year | Forest land | Cropland | Grassland | Peat production areas | Harvested wood products | Total |
| 1990 | -21,57 | 5,78 | -0,26 | 1,01 | -0,95 | -15,99 |
| 1991 | -35,77 | 5,15 | -0,25 | 1,03 | 0,31 | -29,53 |
| 1992 | -28,21 | 4,93 | -0,24 | 1,07 | -0,22 | -22,67 |
| 1993 | -26,13 | 5,16 | -0,23 | 1,09 | -0,09 | -20,21 |
| 1994 | -18,01 | 5,12 | -0,22 | 1,12 | -0,76 | -12,75 |
| 1995 | -19,49 | 5,39 | -0,22 | 1,14 | -0,87 | -14,06 |
| 1996 | -29,28 | 5,39 | -0,21 | 1,17 | -1,05 | -23,98 |
| 1997 | -24,60 | 5,46 | -0,21 | 1,20 | -2,12 | -20,27 |
| 1998 | -23,06 | 5,36 | -0,21 | 1,24 | -1,77 | -18,44 |
| 1999 | -25,66 | 5,29 | -0,19 | 1,26 | -2,04 | -21,34 |
| 2000 | -27,67 | 5,24 | -0,17 | 1,28 | -1,27 | -22,59 |
| 2001 | -32,38 | 5,30 | -0,16 | 1,28 | -0,31 | -26,27 |
| 2002 | -32,89 | 5,33 | -0,13 | 1,26 | -0,44 | -26,87 |
| 2003 | -32,87 | 5,16 | -0,11 | 1,27 | -0,89 | -27,44 |
| 2004 | -34,55 | 5,21 | -0,08 | 1,33 | -0,83 | -28,92 |
| 2005 | -39,02 | 5,28 | -0,05 | 1,31 | -0,34 | -32,82 |
| 2006 | -44,08 | 5,39 | -0,03 | 1,31 | -0,45 | -37,85 |
| 2007 | -36,10 | 5,35 | 0,00 | 1,31 | -1,21 | -30,65 |
| 2008 | -41,93 | 5,32 | 0,00 | 1,31 | -0,09 | -35,39 |
Source: Greenhouse gas inventory unit, Statistics Finland
Inquiries: Riitta Pipatti (09) 1734 3543, Timo Kareinen (09) 1734 3528, kasvihuonekaasut@stat.fi
Director in charge: Leena Storgårds
Publication in pdf-format (322.2 kB)
Tables in databases

Pick the data you need into tables, view the data as graphs, or download the data for your use.

Appendix tables
---
Updated 19.11.2010
Official Statistics of Finland (OSF): Greenhouse gases [e-publication].
ISSN=1797-6065. Internationally reviewed data 2008. Helsinki: Statistics Finland [referred: 3.12.2023].
Access method: http://www.stat.fi/til/khki/2008/01/khki_2008_01_2010-11-19_tie_001_en.html