Published: 17 April 2013
The value added share of culture 3 per cent in 2009
According to the Culture Satellite Accounts published by Statistics Finland, the share of the fields of culture of the value added of the whole economy was good three per cent in 2009.
Value added shares (%) of certain industries in 2009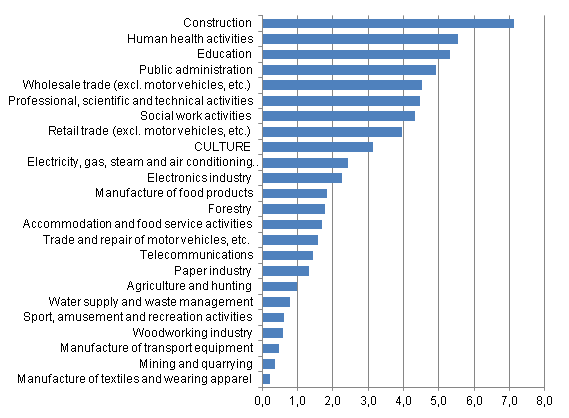 The task of the Culture Satellite Accounts statistics is to depict the economic significance of culture, using the concepts and methods of National Accounts. Data according to the Standard Industrial Classification TOL 2008 are for the time being available for the years 2008 to 2009. These data are now published for the first time. In the autumn of 2013, a time series stretching to 2011 will be published.
The Culture Satellite Accounts were first compiled as a pilot project financed by the Ministry of Education and Culture for the years 1995 to 2005 and after that, the data has been expanded annually with financing from the Ministry of Education and Culture. Data in accordance with the old Standard Industrial Classification TOL 2002 exist for 1995 to 2008 and they have been published previously as part of Statistics Finland's cultural statistics.
So far, there is no internationally agreed method for producing culture satellite, but the culture satellite compiled in Finland largely utilises the same methods that are used in the so-called Tourism Satellite Accounts, which have been developed in international co-operation. The compilation method of Culture Satellite Accounts is mostly similar in different countries, but, becouse, the industry selection varies between different countries, the results from different countries are not directly comparable. Culture Satellite Accounts are also called culture satellite.
The data for the Culture Satellite Accounts are published on the statistics website as database tables.
Source: Culture Satellite Accounts, Statistics Finland
Inquiries: Katri Soinne 09 1734 2778, Aku Alanen 09 1734 3320, skt.95@stat.fi
Director in charge: Leena Storgårds
---
Updated 17.4.2013
Statistics: Culture satellite accounts [e-publication].
ISSN=2323-9905. 2009. Helsinki: Statistics Finland [referred: 11.8.2022].
Access method: http://www.stat.fi/til/klts/2009/klts_2009_2013-04-17_tie_001_en.html