Published: 1 March 2007
GDP grew by 0.9 per cent in the 4th quarter of 2006
In the 4th quarter of 2006, the volume of Finland's GDP increased by 0.9 per cent form the previous quarter. Compared to the 4th quarter of 2005, GDP was up by 4.5 per cent. Adjusted for seasonal variation, the respective year-on-year change in GDP was 5.3 per cent. This year, the last quarter had one working day less than in 2005. According to revised data, in the January to December period GDP grew by 5.5 per cent from last year's corresponding time period. The data derive from preliminary national accounts compiled by Statistics Finland.
The output of the national economy was increased in the last quarter of the year by all the demand components: exports, consumption and investments. In the October to December period households' final consumption expenditure increased by good 2 per cent from twelve months back. Purchases of clothing, footwear, furniture and especially household appliances and electronics were plentiful. Investments went up by good one per cent. Investments in construction increased by good one per cent while those in machinery, equipment and transport equipment fell fractionally from one year back. The volume of imports increased by 2 per cent and that of exports by good 8 per cent year-on-year.
Gross domestic product by quarter at reference year 2000 prices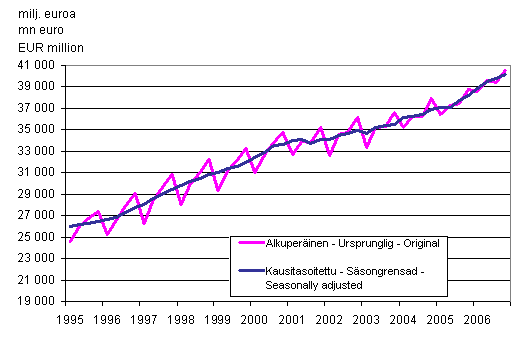 The calculation method of value added has been revised in quarterly national accounts. Value added by industry is now calculated by deducting intermediate consumption from output.
At the same time, the fixed base year was changed into a varying one where the base year is always the preceding year but released data are expressed at the prices of the reference year 2000.
The data for previous quarters are also always revised when data are released for a new quarter. Quarterly data continue to be revised until final annual accounts data are published at the lag of around two years.
Source: National Accounts 2006, 4th quarter. Statistics Finland
Inquiries: Mr Pasi Koikkalainen +358 9 1734 3332, kansantalous.suhdanteet@stat.fi
Director in charge: Mr Ari Tyrkkö
Links: Press release related to this statistical release
---
Last updated 1.3.2007
Official Statistics of Finland (OSF): Quarterly national accounts [e-publication].
ISSN=1797-9765. 4th quarter 2006. Helsinki: Statistics Finland [referred: 16.8.2022].
Access method: http://www.stat.fi/til/ntp/2006/04/ntp_2006_04_2007-03-01_tie_001_en.html